Peace Symphony, by DJ Spooky, Showcased at Juniata Concert
(Posted March 7, 2016)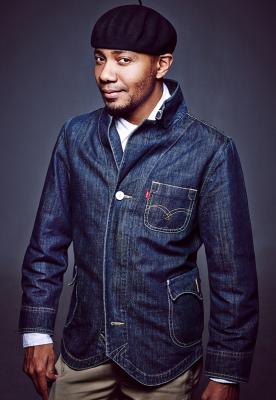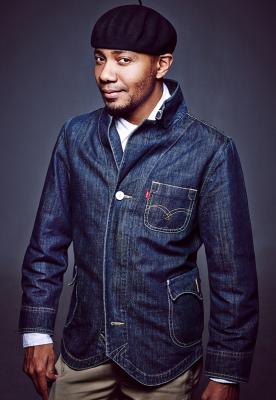 HUNTINGDON, Pa. -- A hip-hop musician, artist, author and all-around renaissance performer, Paul D. Miller, also known as DJ Spooky, will speak at Juniata College at 7:30 p.m., Thursday, March 17, and will also perform a concert at 7:30 p.m., Friday, March 18. Both events are in Rosenberger Auditorium in the Halbritter Center for the Performing Arts on the Juniata campus.
The talk is free and open to the public. For tickets and information about the concert, please call (814) 641-JTIX (5849). General admission tickets for single performances are $20, except where otherwise noted. Single-show tickets for seniors over age 65 and children age 18 and under are $12. Juniata College students are admitted free with a student ID.

The March 18 concert is titled "Peace Symphony: 8 Stories," which was inspired by the survivor stories of the last remaining survivors of the nuclear bomb attacks on Hiroshima and Nagaski, Japan, at the end of World War II.

The piece uses sampled words and stories from the survivors to create electronic and acoustic musical portraits.

Paul Miller, who records as a hip-hop musician called "DJ Spooky, That Subliminal Kid," first came to the public's attention by recording a series of singles and EP's in the experimental style known as "trip-hop." His first album was called "Songs of a Dead Dreamer."

DJ Spooky also has collaborated with a variety of avant-garde musicians on various projects, including Thurston Moore, of Sonic Youth, David Byrne, Patti Smith and Laurie Anderson. He also released a collboration with jazz players such as Matthew Shipp, William Parker and Joe McPhee.

"He is a very accomplished composer. DJ's are the ones bring fresh sounds to the music world. I They are the space transformers of the universe."

Yoko Ono

He also recorded "Drums of Death" with Slayer drummer Dave Lombardo and rapper Chuck D, of Public Enemy, and guitarist Vernon Reid, of Living Colour.

The multitalented artist has had many multimedia artworks included in national and international exhibitions. His work at been displayed in the Whitney Museum Biennial, the Venice Biennial, the Kunsthalle, in Vienna, The Andy Warhol Museum in Pittsburgh, Pa., and the Paula Cooper Gallery in New York City.

In addition he remixed the classic flim "Birth of a Nation," by pioneering director D.W. Griffith, into "Rebirth of a Nation."

Miller also is an entrepreneur, whose iPad app, DJ Mixer iPad, has been downloaded more than 12 million times.

He is a published author of science fiction and also wrote "Sound Unbound," an anthology of writings on electronic music and digital media. Miller also is executive editor of Origin Magazine, which explores the intersection of art, yoga and new ideas.

"He is a very accomplished composer," says Yoko Ono, who collaborated with DJ Spooky. "DJ's are the ones bring fresh sounds to the music world. In fact, they are creating new spatial music. They are the space transformers of the universe."

Miller is a native of Washington, D.C., and graduated from Bowdoin College in Brunswick, Maine.

Contact April Feagley at feaglea@juniata.edu or (814) 641-3131 for more information.