Juniata English Professor Teaches the Not-So-Classics
(Posted March 21, 2016)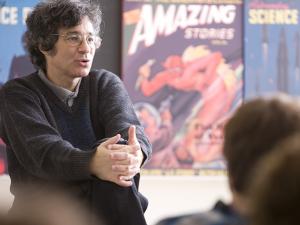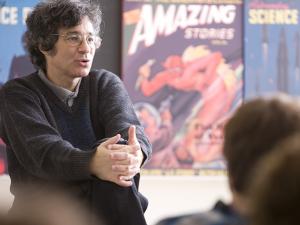 HUNTINGDON, Pa. -- The consensus among employers is that today's college graduates just don't write well. One Juniata College professor's solution to this problem is to skip the writing lessons in Shakespeare and Steinbeck and instead focus on less-acclaimed titles like "Matters of the Heart," by Danielle Steel.

Yes, that's right. To best prepare students to put their thoughts on paper, Peter Goldstein, professor of English, created the course "Bad Literature," a spring semester English course where students pore over poorly written pulp.

"Analyzing bad literature forces students to go further than saying something like, 'It's trashy and awful.' What do we mean when we say awful?" asks Goldstein. "Is it a matter of personal taste, or are there objective criteria that you can come up with in order to say a book is bad?"
Goldstein's selections for the semester include middling masterworks like Stephenie Meyer's "Twilight" and Dan Brown's "Angels and Demons."

Predictability is one of the criteria that Goldstein's students have identified as belonging to bad literature. If you can predict the end after the first few pages, the book you're reading may be a bad one. Another criterion symptomatic of lower lit is how much books challenge their readers. "Good literature must make you think and grow as an individual," says Goldstein.

Like moths to a flame, many people are unfailingly drawn to literature that doesn't make them think or help them grow. Much of the discussion students have done this past semester seeks to explain why people are so unfailingly attracted to bad literature.

What do we mean when we say awful? Is it a matter of personal taste, or are there objective criteria that you can come up with in order to say a book is bad?"

Peter Goldstein

"People are attracted to characters like Robert Langdon, the main character in 'Angels and Demons' because Brown comes out and tells you that he is an all-around good person, nice, pretty, talented and accomplished. There's no complexity," says DiDi Rizzo, a senior from Altoona, Pa.

Two-dimensional characters are also largely responsible for bad literature's success, explains Heather Gahler '16. "Bella, from 'Twilight,' is a very flat character. She's written in such a way that it's very easy for her audience -- 13-year-old girls -- to transpose themselves into her story."

"Strong literature shows you that characters are multifaceted, rather than telling you who's a 'good guy' or a 'bad guy,'" Rizzo says.

It's easy to bash Dan Brown's flat characters and Danielle Steel's predictable plots, but Goldstein and company also spend time slamming heavy-hitters like Charles Dickens, Edgar Allan Poe and William Faulkner.

"I've asked the students to look at these so-called 'classics' with the same critical eye as the other books. I don't want them to be intimidated by the big names," says Goldstein.

"The plot pacing was awful. It felt like 200 chapters of nothing," says Gahler of Dickens' "Old Curiosity Shop." "Like Poe, Dickens' storytelling sometimes takes forever to get to the gist."

Students learn not only to identify bad literature, but also to see its merits. Like popcorn at the movies, people crave snack-like, low-calorie reading from time to time. There's a reason why Descartes and Hegel aren't normally packed with the sunscreen and sandwiches for a day at the beach.

"After most of our comparative and analytical discussion, the class talked about the positive function that bad literature can have in society," says Goldstein. "Even if 'Twilight' is bad literature, is it still a good thing because it has lots of people reading?"

"Some people need books that don't focus on changing lives, and I understand why," says Rizzo. "Escapism is a way that people deal with the struggles of everyday life, and writers know that and profit from it."

Students came away from the course with a new appreciation of the worst of tomes, and a keener understanding of the best. "In the same way that you make mistakes in math, when you read bad literature you can identify the 'mistakes' and learn from them. It helps you recognize good and bad literature for yourself," says Gahler.

By Tyler Ayres

Contact April Feagley at feaglea@juniata.edu or (814) 641-3131 for more information.