NSF Awards Juniata $1 Million Grant to Educate STEM Teachers
(Posted April 11, 2016)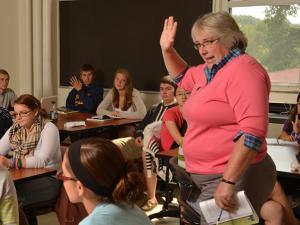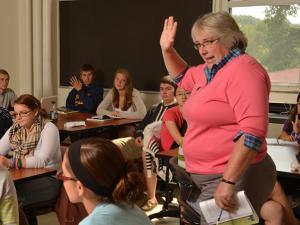 HUNTINGDON, Pa. -- Juniata College has been awarded a $1 million, five-year grant from the National Science Foundation to identify, select and offer scholarships to at least four undergraduate students per year studying biology, physics, chemistry, earth and space science, general science or mathematics with certification to teach in secondary schools, obligating the students upon graduation to teach science in rural school districts for at least one year for every year of scholarship support.

The project, titled "Energizing STEM Teaching Across Rural Schools," (called E-STARS at Juniata) would use Robert Noyce Teacher Scholarships, a National Science Foundation award worth $15,000 per academic year, to support Juniata juniors and seniors studying science or math as they approach graduation and secondary teaching certification for teaching grades 7-12. Once they graduate, recipients of the Noyce scholarship would be obligated to teach biology physics, chemistry, earth and space science or mathematics in a rural school district for a minimum of two years for each year they received the scholarship in any rural school district identified within the program.

"Juniata has always produced strong science and math teachers, but now students have a fabulous monetary incentive to consider teaching in rural areas that are often underserved," says Kathy Jones, associate professor of education and project director for the grant. "Rural science and math teachers are often isolated from others interested in the sciences, but through the grant, we will be following each cohort as they move into the teaching field and connecting them as professional learning communities via technology. They will be able to share their successes and challenges, and offer support and mentoring."

Juniata's aims in developing science, math and technology teachers are fourfold.

--To adapt Juniata's already recognized excellence in teacher education and STEM education to the training and preparation required of Noyce Scholars.


"Juniata has always produced strong science and math teachers, but now students have a fabulous monetary incentive to consider teaching in rural areas that are often underserved."

Kathy Jones, associate professor of education
--Start a recruitment program beginning in the 2016-2017 academic year to identify at least five students per year interested in a teaching career in STEM disciplines.

--Develop a consistent supply of STEM-prepared educators to teach in underserved and rural middle schools and high schools throughout Pennsylvania.

--Develop effective evidence-based criteria for recruiting retaining and graduating motivated STEM educators willing to teach in rural areas.

Jones, who collaborated on the $1,009,374 grant with co-project directors, Jamie White, Book Professor of Physics, and Leslie Leckvarcik, director of Science in Motion, says the college is particularly well suited to accomplish the program's goals because the college has a national reputation at excellence in science education, longtime partnerships with four K-12 schools in the Huntingdon area, and Science in Motion, a longstanding outreach program that delivers STEM-based lessons to rural school districts.

In addition to classroom instruction, outreach and student teaching, Juniata also plans to develop an extensive summer program featuring mini-classes, internships and training within the Science in Motion program.

"In addition to the scholarship funding, each E-STAR scholar will have a summer internship working either in a research lab, doing statistical consulting, working on education research, or as a counselor for the middle school science camp. This unique summer opportunity will further strengthen students' commitment to teaching and conceptual understanding of their own subject. These intern experiences are essential for developing skills that could be employed in their future classrooms.," Jones explains.

To qualify for the E-STARS program all successful graduates must agree to teach for two years in an accepted rural school district for every year of scholarship support through the Noyce program.

According to the National Center for Education Statistics, rural schools comprise about 30 percent off all schools in the U.S. and educate about one-third of all students in the United States. Other statistics from the center reveal that rural schools often trail in STEM education due to supply shortages, funding and access to qualified teachers.

The Robert Noyce Teacher Scholarship Program encourage talented science, technology, enginnering and math majors and professionals to become K-12 STEM teachers. Robert Noyce collaborated on the first integrated circuit, or microchip, and later cofounded Fairchild Semiconductor in 1957 and Intel Corporation in 1968.

Contact April Feagley at feaglea@juniata.edu or (814) 641-3131 for more information.