Mingus to Mangione: Jazz Ensemble to Perform Concert
(Posted April 18, 2016)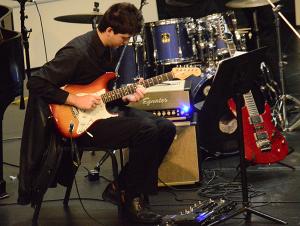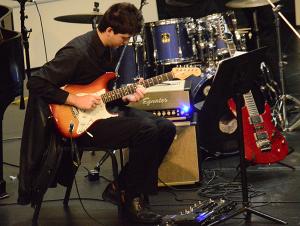 HUNTINGDON, Pa. -- The Juniata College Jazz Ensemble will perform a program ranging from the funk of Charles Mingus to the ethereal horn sounds of Chuck Mangione at 7:30 p.m., Saturday, April 23 in Rosenberger Auditorium in the Halbritter Center for the Performing Arts.

Tickets for the concert are $5 and free for anyone under age 18 or Juniata students with valid and current ID. The director of the Jazz Ensemble is Jordan Canner, a lecturer in music at Juniata.

The ensemble will play "The Chicken" by Alfred James Ellis, a show-stopping tune featuring the electric bass. The song was a favorite of bassist Jaco Pastorius. Next, the group will play the tune "Dat Dere," written by Bobby Timmons. Timmons, a pianist, played with Art Blakey's Jazz Messengers.

"God Bless the Child," made famous by jazz legend Billie Holliday, has been performed by countless jazz ensembles and pop musicians, including Blood, Sweat and Tears and Lisa Simpson. This version of the song is arranged by Sammy Nestico.

"Jackson Square," by Dennis DiBlasio, is written to recall the New Orleans "line" ensembles. The tune features baritone sax and uses a more contemporary funk structure than traditional New Orleans jazz.
The late jazz bassist Charles Mingus wrote the next selection, "Haitian Fight Song." Mingus first recorded the song to honor the Haitian Revolution against French colonialism.

The final selection of the concert will be "Children of Sanchez," by flugelhorn player Chuck Mangione. Mangione came to prominence in the 1970s as a jazz fusion artist known for soothing rhythms. He recorded "Children of Sanchez" in 1978 as a soundtrack for the film of the same name.

The members of the Jazz Ensemble are as follows:

Alto Sax: Matthew Alexander, a freshman from Greencastle, Pa.; Carly Hafer, a junior from Greencastle, Pa.; and Daniel Komar, a community member.

Tenor Sax: Kate Bock, a sophomore from Warriors Mark, Pa., and Alex Rothstein, a community member from Huntingdon.

Baritone Sax: Kayla Morgan, a senior from Mapleton Depot, Pa.

Trombone: Marshall Carter , a community member; Joel Canner, a senior from State College, Pa.; Jared Flick, a senior from Richfield, Pa.; Faith Thoman, a junior from Thomasville, Pa.; and Dennis Wilt, a sophomore from Altoona, Pa.

Trumpet: Jonathan Basom, a community member from Huntingdon; David Dunlap, a community member from Huntingdon; Julian Groenendaal, a community member from Huntingdon; and Daniel McClure, a community member from Huntingdon.

Guitar: Joshua Katz, a sophomore from Somerset, Pa.

Piano: Evan Quinter, a freshman from Allentown, Pa.

Bass: Rebecca Katz, a junior from Somerset, Pa., and Ian-Michael Taylor-Benjamin, a freshman from Pittsburgh, Pa.

Drums: Taylor Hohenstein, a junior from Charlottesville, Va., and Dane Sapienza, a sophomore from Pittsburgh, Pa.

Special Guest
Philip Loewen, a community member from Lewistown, Pa.
Contact April Feagley at feaglea@juniata.edu or (814) 641-3131 for more information.