Television Icon, Educator LeVar Burton to Speak at Juniata
(Posted April 18, 2016)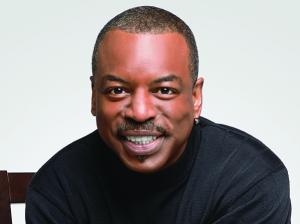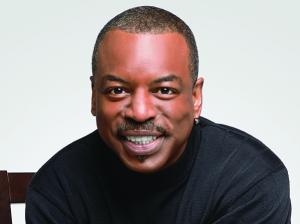 HUNTINGDON, Pa. -- LeVar Burton has starred in two groundbreaking television events, but his most lasting legacy has been as an educator, encouraging generations of children to find adventure in books as the host of "Reading Rainbow," a beloved PBS series. At Juniata College, Burton will read from his first children's book and then participate in a question and answer session at 11 a.m., Sunday, April 24, in Rosenberger Auditorium in the Halbritter Center for the Performing Arts on the Juniata College campus.

The lecture is free and open to the public. Burton will be reading his book "The Rhino Who Swallowed a Storm."

Although Burton has been an acclaimed actor for almost four decades, his most satisfying role is as an education advocate. He started his educational career in 1983 when he began as host and executive producer for the public television show, "Reading Rainbow," The show received 26 Emmy Awards and a Peabody Award, including 12 Emmys for Burton himself.

When "Reading Rainbow" went off the air in 2006, Burton did not move on to something else. Instead, he and a partner bought the rights to the show and created RRKIDZ, a media company focused on literacy for children. The company's first product was the Reading Rainbow App, developed in 2012 for the iPad. Most recently, Burton started as Kickstarter campaign to raise funds to re-create "Reading Rainbow" as a web-based program.

As part of his Juniata appearance, Burton and his company also donated every episode of his "Reading Rainbow" programs to Juniata's Beeghly Library.

Burton, who is a graduate of the University of Southern California, rocketed to fame at his first audition in 1977, when he won the role of Kunta Kinte, the central character in the Emmy-winning miniseries "Roots." Burton was nominated for Best Actor in a Drama Series for the pioneering show.

After establishing himself as an education advocate with "Reading Rainbow," Burton re-entered the pop culture pantheon when he was signed to play a central role in "Star Trek: The Next Generation," as Geordi La Forge, a blind helmsman who sees by using a "visor" worn over his eyes. Burton played the role over seven seasons from 1986 to 1994 and participated in the two feature films based on the franchise.

After directing episodes of Star Trek: The Next Generation" and various spinoffs, Burton established himself as a director. He has gone on to direct episodes od "Charmed," "JAG," and the documentary "The Tiger Woods Story."
Contact April Feagley at feaglea@juniata.edu or (814) 641-3131 for more information.