Orchestra to Perform Works of Acclaimed Composers
(Posted April 25, 2016)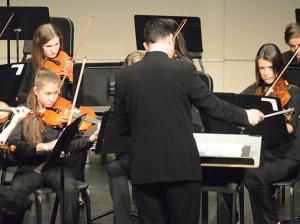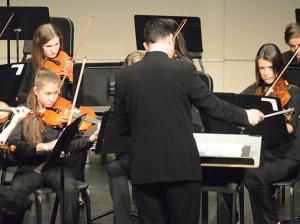 HUNTINGDON, Pa. -- The Juniata College Orchestra will interpret the music of six famed composers at the ensemble's spring semester concert at 7:30 p.m., Saturday, April 30, in Rosenberger Auditorium in the Halbritter Center for the Performing Arts on the Juniata campus.

Tickets for the performance are $5 at the door. Children under age 18 and Juniata students with current I.D. are admitted free. The Juniata Orchestra is conducted by Benjamin Firer, lecturer in music at Juniata.

The concert will open with "Holberg Suite," by Norwegian composer Edvard Grieg, best known for the work "In the Hall of the Mountain King." The five-part composition is based on five different 18th century European dances. The piece was dedicated to a Norwegian playwright, Ludvig Holberg.

Next the ensemble will play "String Quartet in F Major," by Joseph Haydn.

The musical mood will brighten with the performance of "Waltz No. 2," by Dmitri Shostakovich, which is familiar to moviegoers as the credits and opening music for the Stanley Kubrick film "Eyes Wide Shut."

Next the Honors String Quartet will play. The members of the group are: Claire Cohen, a freshman from Philadelphia, violin; Sophie Bell, a sophomore from Lewisburg, Pa., violin; Mike Kelley, a senior from Vienna, Va., viola; and Hannah Lutwyche, a junior from Reistertown, Md., cello

The orchestra returns with a performance of "Brook Green Suite," by British composer Gustav Holst, best known for his work "The Planets." The composition was written in 1933 for a small orchestra at St. Paul's Girls School in London.

"Dance Impromptu," by Jean Sibelius, is the next selection on the program. Sibelius, a Finnish composer best known for "Finlandia," is, along with Grieg, celebrated for inspiring national identity through music in the 19th and 20th centuries. He was often inspired by nature and Nordic mythology.

The final composition is inspired by the youth gangs of 1950s New York City, from the Broadway musical, "West Side Story." Composed by Leonard Bernstein, the music celebrates the romance between a boy and a girl, each from rival gangs. The musical is based on "Romeo and Juliet."

The members of the Juniata College orchestra are:
Violin 1: Claire Cohen, a freshman from Philadelphia, Pa.; Sophie Bell, a freshman from Lewisburg, Pa.; and Rebecca Murgo, a freshman from Duncansville, Pa.

Violin 2: Emily Reinl, a senior from Mechanicsburg, Pa.; Mary Boggs, a freshman from Bel Alton, Md.; Abigail Inhat, a freshman from Irwin, Pa.; and Aubry Wareham, a freshman from Mercersburg, Pa.

Viola: Mike Kelley, a senior from Vienna, Va., and Shayla Fitzsimmons, a freshman from Fort Loudon, Pa.

Cello: Hannah Lutwyche, a junior from Reisterstown, Md., and Emily Stinson, a freshman from Wind Gap, Pa.

Bass: Brady Scales, a sophomore from Mount Airy, Md., and Sarah Wilt, a freshman from Elverson, Pa.
Contact April Feagley at feaglea@juniata.edu or (814) 641-3131 for more information.