Juniata Honors Carl and Nancy Glaeser with Honorary Degrees
(Posted May 12, 2016)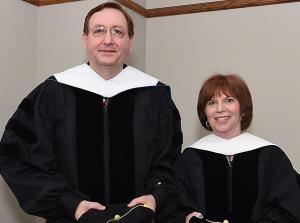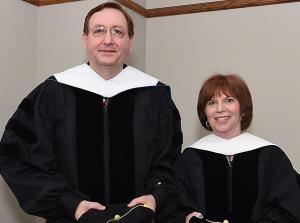 HUNTINGDON, Pa. -- Carl D. Glaeser, a 1977 graduate of Juniata College and managing partner for Palladian Capital Partners in New York, N.Y., and his wife, Nancy N. Glaeser, a 1976 Juniata graduate and a teacher and math specialist for grades 1-3 in the Mahwah School District in Mahwah, N.J., will receive honorary doctor of humane letters degrees Saturday, May 14, at 10 a.m. during Juniata's 138th commencement ceremony.

Glaeser, a Baltimore, Md. native, is managing partner of Palladian Capital Partners LLC , an investment firm specializing in private equity, based in New York, N.Y.

A 1977 graduate of Juniata, Glaeser co-founded at Palladian Capital after a long executive career at large, medium-sized and entrepreneurial companies. Before his career at Palladian, he was president and chief executive officer of Bowne Global Solutions, a leading provider of business process outsourcing globalization services.

Glaeser started his business career in the consumer goods industry, including positions at Snyder's of Hanover; H.J. Heinz; and Cadbury Schweppes. He then moved into the technology sector as national sales manager at MECA Software. Glaeser started his entrepreneurial career as co-founder and vice president of Pastel Development Corp., a personal information software developer. Next, he moved to Lucent Technologies, where he served as director of business development, then as vice president and general manager of AG Communication Systems.

Nancy Glaeser, a native of Philipsburg, Pa., has been a teacher in the Mahwah School District since 2002. She started her career in education right after graduating Juniata, teaching from 1976 to 1990 in various school districts, including Philipsburg, Pa., Greenwich, Conn., Boise, Idaho, and New Jersey. She started as an elementary school teacher and soon specialized as a teacher for the deaf and for communication disorders.

She also worked as a lecturer in special education at Boise State University from 1983 to 1987 while also working as a special education consultant for the Idaho Department of Education.

She earned a bachelor's degree from Juniata in elementary education and went on to earn a master's degree in communication disorders in 1981 from Penn State University.

She is active in her community at her local Lutheran church. She has taught Sunday school at the church for more than 20 years. She also is a member of the Mahwah Education Association.
Contact April Feagley at feaglea@juniata.edu or (814) 641-3131 for more information.