Commencement Speaker Betty Ann Cherry Urges Graduates to Nurture Relationships
(Posted May 16, 2016)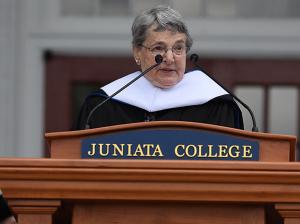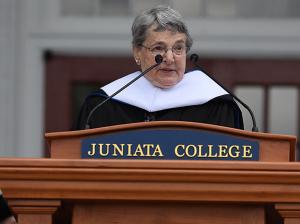 HUNTINGDON, Pa. -- Betty Ann Cherry, professor emerita of history at Juniata College and a longtime Huntingdon resident whose personal history is intricately linked with the college, straightforwardly told the assembled 2016 graduating class at Juniata's 138th commencement ceremony, Saturday, May 14, "Relationships matter. They are what life is about, and therefore, each of us has a responsibility to know how to initiate and maintain them."

The graduating class of 359 undergraduate students was awarded bachelor of arts (97) or bachelor of science degrees (262) at the ceremony. Juniata also graduated nine students who earned master's degrees: six in in accounting and three in the new master's of arts in nonprofit leadership.

In addition, Carl D. Glaeser, a 1977 graduate of Juniata and managing partner for Palladian Capital Partners in New York, N.Y., and his wife, Nancy N. Glaeser, a 1976 Juniata graduate and a teacher and math specialist for grades 1-3 in the Mahwah School District in Mahwah, N.J., received honorary doctor of humane letters degrees.

Cherry, who literally grew up on the Juniata campus as the daughter of Calvert Ellis, president of Juniata College from 1943 to 1968, and Elizabeth Wertz Ellis, Cherry eventually became professor of history at Juniata from 1962 to 1998, used a frank and folksy delivery to say, "Whether you believe that ''No one is an island,' or 'it takes a village,' you are acknowledging the fact that no matter who you are, where you come from, or what you do, you will be and should be in relationships with other human beings."

Cherry talked of the value in developing skills to build relationships and instructed her listeners that the people they met at Juniata can become friends for life, saying, "The community called Juniata College will forever have your relationships as an integral part of it. And those stories you tell about Juniata are really about the experiences you had in those relationships."


"You do not always know what you have learned until you have learned it."

Betty Ann Cherry, professor emerita of history
The speaker went on to illustrate how Juniata students should graduate with the knowledge to recognize helpful, encouraging respectful behavior within themselves and others. After all, she advised, "You do not always know what you have learned until you have learned it."

The culture of the Juniata College community also plays a role in how students build relationships. Cherry recalled a time when the college was adjusting its curriculum and the discussion was opened to the entire campus. She recalled that nearly every person on campus joined the discussion. "Ideas were shared in a respectful way because there had been good groundwork done by (the) student Government, treating conflicting ideas with little of the partisan rancor we see today in our political arenas," Cherry said.

"How often do we get leaders who, rather than try to deliberately involve people, set out to tell people what to do, my way or the highway," she added. "Neither the leader, nor the community of which he or she is a part, benefit."

Cherry ended her speech telling the assembled graduates that her speech was a challenge because, "Choosing which stories to tell, from the hundreds I know, after a lifetime here, made this a hard assignment. I knew what I wanted you to understand about Juniata, namely the importance this community places on relationship."


The 2015 Senior Class Gift collected more than $51,000 (72 percent of the class contributed to the gift), for an elevator to be placed in Good Hall.

Cherry's background is interwoven with the history of Juniata College. She was married to the late Ronald Cherry, professor of economics and business administration from 1958 to 1998. She was previously honored with an honorary doctor of humane letters degree in 2005.

Currently residing in the Westminster Woods retirement community, Cherry remains active in the Huntingdon area. She also is very active in the Church of the Brethren. She is a former moderator at the Stone Church of the Brethren and is in her second term as the chair of church's Middle District Pennsylvania Coordinating Team. In 2004, she performed the duties of reader for a Brethren Christmas Eve service televised nationally on CBS-TV.

She taught a variety of general education courses over her career, most notably the "Great Epochs" courses, which were the first interdisciplinary, team-taught courses at the college. She also taught courses in the history of science, ancient Greece and medieval history. She believes her lasting contribution to the college was her work as an adviser to many Juniata students.

Cherry received the Beachley Award for Distinguished Academic Service in 1990 and received the Beachley Distinguished Professor Award in 1998. She is a member of the American Historical Association and Phi Alpha Theta. She started her academic career at Juniata in 1962 as an instructor. She was promoted to assistant professor in 1965, to associate professor in 1975, and to full professor in 1998.

Cherry earned a bachelor's degree in history from the College of Wooster in 1956 and earned her master's degree from Columbia University in 1957. She was a visiting fellow in history at Harvard University in 1973-74.


Carl Glaeser, a Baltimore, Md. native, is managing partner of Palladian Capital Partners LLC , an investment firm specializing in private equity, based in New York, N.Y.

Glaeser, a 1977 graduate of Juniata and a current member of the board of trustees, co-founded Palladian Capital after a long executive career at large, medium-sized and entrepreneurial companies. Before his career at Palladian, he was president and chief executive officer of Bowne Global Solutions, a leading provider of business process outsourcing globalization services.

Glaeser started his business career in the consumer goods industry, including positions at Snyder's of Hanover; H.J. Heinz; and Cadbury Schweppes; . He then moved into the technology sector as national sales manager at MECA Software. Glaeser started his entrepreneurial career as co-founder and vice president of Pastel Development Corp., a personal information software developer. Next, he moved to Lucent Technologies, where he served as director of business development, then as vice president and general manager of AG Communication Systems.

Nancy Glaeser, a native of Philipsburg, Pa., has been a teacher in the Mahwah School District since 2002. She started her career in education right after graduating Juniata, teaching from 1976 to 1990 in various school districts, including Philipsburg, Pa., Greenwich, Conn., Boise, Idaho, and New Jersey. She started as an elementary school teacher and soon specialized as a teacher for the deaf and for communication disorders.

She also worked as a lecturer in special education at Boise State University from 1983 to 1987 while also working as a special education consultant for the Idaho Department of Education.

She earned a bachelor's degree from Juniata in elementary education and went on to earn a master's degree in communication disorders in 1981 from Penn State University.

She is active in her community at her local Lutheran church. She has taught Sunday school at the church for more than 20 years. She also is a member of the Mahwah Education Association.

Both the Glaesers have made important contributions to the college's educational mission through various gifts. The Glaesers have been dedicated to Juniata's mission through their support of Juniata's "Executive in Residence" program, the College's greenhouse, enhanced cyber infrastructure, the artificial turf at Knox Stadium, in addition to the Juniata Center for Entrepreneurial Leadership. The couple also have endowed a scholarship for students who demonstrate superior academic ability and promise and are pursuing a course of study in business, entrepreneurial studies, or elementary education.

Contact April Feagley at feaglea@juniata.edu or (814) 641-3131 for more information.