Six Juniata College Faculty Members Receive Promotions
(Posted June 9, 2016)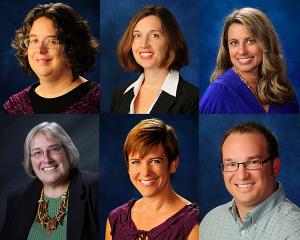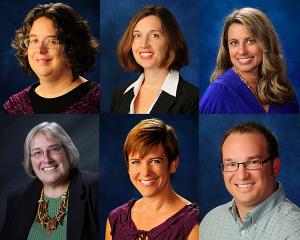 HUNTINGDON, Pa. -- Six members of the Juniata College faculty received promotions in the 2015-2016 academic year at a recent Juniata College Board of Trustees meeting. The faculty members will assume their new titles at the start of the 2016-2017 academic year.

Kathleen Jones, associate professor of education, was promoted to full professor, and Kimberly Roth, associate professor of mathematics, was promoted to full professor.

Kathy Baughman, assistant professor of accounting, business and economics, was promoted to associate professor, Kate Clarke, assistant professor of theatre, was promoted to associate professor; William Dickey, assistant professor of English, was promoted to associate professor; and Amy Frazier-Yoder, assistant professor of Spanish, was promoted to associate professor.

Kathleen Jones, a Huntingdon resident, joined the Juniata faculty in 2005 after a long career as a teacher. She earned two bachelor's degrees, in animal production and agricultural education, in 1985 from Penn State University. She went on to earn a master's degree in agricultural education from Penn State and earned a doctoral degree from Penn State in 2009.

She is certified by the Pennsylvania Department of Education in agricultural education, general science and Principal K-12. She was promoted to associate professor in 2010.

Jones earned a writing specialist certificate from Penn State Harrisburg and also is a Fellow in the National Writing Project. For the 2005-2005 academic year, she worked as a lecturer at Penn State Harrisburg, teaching science education courses. She also served as supervisor and instructor for secondary education students at Penn State University in 2003-2004.

Jones started her career in education in the Peace Corps. She was district agricultural and livestock field officer in the Ministry of Agriculture and Livestock Development in the Nkansi District in Tanzania, Africa from 1985 to 1987. When she returned to the United States in 1988, she started her secondary school teaching career as an agricultural education teacher at Lower Dauphin High School from 1988 to 1992.

She oversees Juniata's secondary science and math certification students and serves as an adviser for the pre-health professions students. She has received numerous awards for her teaching, including the George M. Leader, Excellence In Education, Middle School Teacher of the Year Award in 1997. She also received the National Science Foundation State Award for Excellence in Secondary Science Teaching in 1998 and the 1998 Presidential Award for Excellence in Secondary Science Teaching. She is a member of Phi Beta Kappa.

Kim Roth, a resident of Huntingdon, joined the Juniata faculty in 2006 as assistant professor of mathematics from Wheeling Jesuit University in Wheeling, W.Va., She was promoted to associate professor at Juniata in 2010.

She earned a bachelor's degree in 1996 in computer science from Oberlin College in Oberlin, Ohio. She went on to earn a doctoral degree in mathematics at Penn State University in 2002.

Roth started her education career teaching at Sewickley Academy in Pittsburgh. During her graduate career at Penn State she taught in the Sperling-Cohen Tutoring Program from 1999 to 2002 and also taught as a graduate assistant at Penn State from 1997 to 2002. She became an assistant professor at Wheeling Jesuit in 2002, where she taught a wide variety of math courses. At Juniata she teaches courses in quantitative methods, linear algebra, numerical analysis, chaos and fractals, and probability and statistics

Her professional awards include a yearlong fellowship with Project NExT, which stands for New Experiences in Teaching, from 2002 to 2003. She received the Graduate Assistant Outstanding Teaching Award from Penn State in 2002 and also received the 2001 Graduate Student Teaching Award from the university's mathematics department. In addition, she received the Vollmer-Kleckner Scholarship in Science in 2002, and received the ZZRQ Award from Penn State's math department in 1999.

She has published her work in such professional journals as PRIMUS, the Contemporary Math Series and the Cardinal Perspectives. She has presented her research at a variety of international and national conferences.

Roth is a member of the Mathematical Association of America's Committee on the Participation of Women, and also participates in the associations Special Interest Group of Statistics Education

Kathy Baughman, a resident of Port Matilda, Pa., joined the Juniata faculty in 2009 as an assistant professor of accounting, business and economics. At Juniata, she teaches introduction to business, financial accounting, and auditing. She previously served as vice president of finance at Paradise Datacom LLC in State College, Pa. from 2001 to 2009.

In 2011 she earned certification as a Certified Fraud Examiner from the Association of Certified Fraud Examiners. A certified public accountant, Baughman earned a bachelor's degree in accounting in 1991 from Penn State University. She went on to earn her certification as an accountant in 1993.

As vice president at Paradise Datacom, she oversaw inventory control, accounting procurement, payroll, billing and information systems. She also established accounting procedures at the company and was responsible for the company's cash flow management.

She started her business career in 1991 as a senior accountant with KPMG Peat Marwick in Pittsburgh, Pa. She moved into corporate finance in 1994, when she accepted a job as financial analyst at United Technologies Corp. in Hartford, Conn., where she performed audits for a variety of companies owned by United Technologies, including Carrier, Otis, Pratt & Whitney, Sikorsky and Hamilton Standard.

Baughman later moved to Pratt & Whitney, a subsidiary of United Technologies in East Hartford, Conn., as a financial analyst and team leader. She was promoted to senior financial analyst in 1997, leaving in 2000.

She also is an active volunteer in her community, specializing in organizing fundraising events for local nonprofit agencies.

Kate Clarke, a resident of Huntingdon, Pa., joined the Juniata faculty in 2009 after serving as a resident artist and guest faculty member with The Gravity Project at Juniata College from 2007 to 2009.

She attended the Oberlin (College) Conservatory of Music and went on to earn a bachelor's degree from Oberlin College in Oberlin, Ohio in 1990. She also earned a master's degree in fine arts in theatre in 2000 from the University of Washington in Seattle, Washington.

She worked as a teaching assistant at the University of Washington for a year in the 1998-1999 academic year and went on to become a member of the People's Touring Project in 2002.

At Juniata, she directed the college's production of "Pippin" in 2007 and oversaw the production of more than a dozen original solo pieces created by students during the 2007-2008 academic year. In 2009 she was asked to join the faculty full time.

In addition to Juniata's theatre classes, he teaches such specialties as Fitzmaurice Vocal Technique, Linklater Vocal Technique and Alexander Technique. She also teaches singing for actors and physical releasing and movement.

Throughout her professional life, she has maintained a performing career in theatre, film and television. She has performed in regional theatre productions of "Beehive!" "Company," and "Grease." She also has toured in "Twelfth Night," "The Country Wife," "King Lear" and "The Cherry Orchard."

She also has performed in such television shows as "Third Watch" and "Northern Exposure," and the films "Crocodile Tears" and "The Lesson." She is a member of the Screen Actors Guild and Actors' Equity Association.

She was a member of Juniata's Gravity Project from 2007 to 2009 and was a member of the Annex Theatre in Seattle, Washington from 1990 to 1997.

William Dickey, a Huntingdon resident, was hired as part of Juniata's faculty in 2007 as an instructor in English. Previously he served as a part-time lecturer at Juniata from 2004 to 2007.

He earned a bachelor's degree in English in 2000 from Shippensburg University in Shippensburg, Pa. He went on to earn a master's degree in English in 2003 from the University of New Orleans. He earned a doctoral degree in 2010 at Indiana University of Pennsylvania.

Dickey's research and scholarship interest focuses on how terrorism is represented in literature.

He started his teaching experience while still in graduate school, working as a writing tutor and instructor of English composition from 2000 to 2003. He worked as a writing instructor at Tulane University in New Orleans during the 2003-2004 academic year. He also worked as an instructor in language and literacy education at Penn State University from 2005 to 2007.

He served as faculty adviser for Juniata Noise, a music periodical published by students and also served as faculty adviser or the Juniatian, the college's student newspaper.

Amy Frazier Yoder, a native and current resident of Huntingdon, arrived at Juniata in 2009 as an instructor in Spanish.

She earned a bachelor's degree in Spanish and journalism in 1999 from Washington & Lee University in Lexington, Va. She earned a master's degree in Spanish literature in 2004 and went on to earn a doctoral degree in 2009, both from the University of Virginia. She was promoted to assistant professor in 2010 and was promoted to associate professor in 2016.

She worked as a journalist between 1999 and 2002, first at the News & Advance in Lynchburg, Va., and later at the Winston-Salem Journal.
Prior to coming to Juniata, she was an instructor at the University of Virginia from 2008-2009, where she taught Spanish-American literature courses and designed the course Spanish for Health Care Professionals. In addition, she served for four years as administrator, instructor, and activities director for the University of Virginia's international language program in Lima, Peru.

Frazier-Yoder teaches Spanish language courses and classes on Hispanic literature at Juniata.

She also studied for a semester in Ecuador in 1997 at the School for International Training as part of a Washington & Lee journalism department scholarship, and received a Rotary Scholarship to spend a year in Buenos Aires, Argentina, in 1994-1995.

She makes frequent trips to Latin America for service work, conferences, site visits, and travel. In 2010 and 2014, she volunteered at the Asturias Academy in Xela, Guatemala, through a school-college partnership founded by Henry Thurston-Griswold, professor of Spanish. Most recently, she worked with the Office of Diversity and Inclusion and the Office of Community Service in leading Juniata's Cultural Learning Tour in the Dominican Republic.

Her research interests largely focus on 20th century Latin American fiction. She has developed a course on the intersection of Hispanic poetry and popular culture and recently presented on the contemporary reggaetón group Calle 13 at the South Eastern Council of Latin American Studies (SECOLAS) conference in Cartagena, Colombia. Another area of interest is the Argentine writer Jorge Luis Borges; she has published two articles in Variaciones Borges on his works.

She also studies self-conscious fiction, also known as metafiction, teaching and presenting on the works of Roberto Arlt, Julio Cortázar, and Carlos Fuentes, among others. Frazier-Yoder teaches a course on gender constructs in Hispanic fiction. She has recently presented papers at the Mountain Interstate Foreign Language Conference, the Kentucky Foreign Language Conference, the Pennsylvania Conference of Foreign Languages, and at the SECOLAS conference.

She is a member of the American Association of University Women. She also volunteers as an organizer and coach for Odyssey of the Mind. She co-hosts an annual Spanish immersion day for local high school students. As part of her contributions to Juniata College's Spanish Club, Frazier-Yoder teaches cooking classes on Latin American cuisine each semester.
Contact April Feagley at feaglea@juniata.edu or (814) 641-3131 for more information.