Juniata Student from York, Pa. Receives St. Andrews Society Scholarship
(Posted April 22, 2016)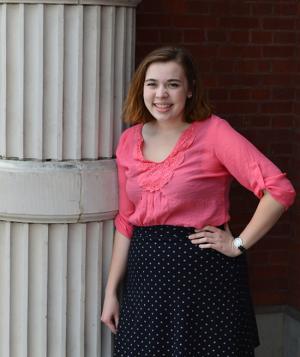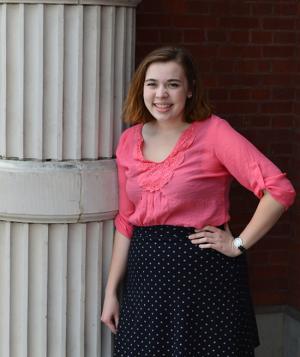 HUNTINGDON, Pa. -- Christy Altland, a sophomore from York, Pa., studying history and conservation studies, has been chosen to receive the prestigious Andrew Mutch Scholarship from the St. Andrews Society of Philadelphia. She will attend the University of Glasgow in the 2016-2017 academic year.

Altland is the daughter of Jim and Deb Altland, of York. She is a 2014 graduate of Central York High School.

Altland is hoping to pursue a career in object conservation in a museum and plans to take courses at the University of Glasgow that focus on the university's internationally recognized programs in history.

She is an active participant in campus activities. She is a member of the Juniata College Concert Choir and she has traveled with the group in international tours to Germany and will accompany the ensemble to Austria and Hungary this spring.

Altland is secretary for Juniata student clubs: the Catholic Council and the Juniata Christian Fellowship. She also works as a tour guide for the college's Office of Enrollment.


"I have grown a lot at Juniata and become much more independent because of the encouragement I've received from my professors."

Christina Altland, of York, Pa.
Before coming to Juniata, she received college scholarships from her high school and from her church, Zion United Methodist Church, in York.

"I have grown a lot at Juniata and become much more independent because of the encouragement I've received from my professors," Altland says. "The faculty don't coddle you at Juniata but rather help you gain the confidence as an individual to work toward difficult objectives such as this scholarship. Juniata also helps its students to be successful by allowing them to individualize their majors. This has worked well for me because I want to go into a very specific field. It's one of the best things at Juniata."

Only six students from 18 participating colleges and universities in and around Philadelphia are selected to attend one of the four participating universities in Scotland for one year. Altland is the 23rd Juniata College student to receive this prestigious award since Juniata's affiliation with the program in 1979.

To be considered for the scholarship, a student must first be in the top fifth of the sophomore class. The candidate then completes an application and writes an essay. Four finalists are chosen and interview with the scholarship committee. From these interviews, each institution selects one candidate who then travels to Philadelphia to compete for one of the four scholarships.

Contact April Feagley at feaglea@juniata.edu or (814) 641-3131 for more information.