Juniata Gets Huge 270-slot Bounce in Money College Rankings
(Posted August 15, 2016)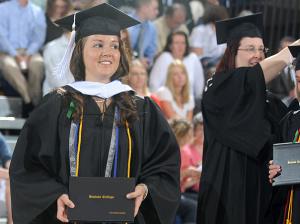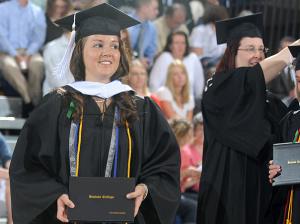 HUNTINGDON, Pa. -- Ranked highly for its quality of education, affordability and the success of its graduates, Juniata College has been rated 129th as one of 705 colleges and universities in Money Magazine's "Best Value Colleges 2016" national rankings.

Juniata jumped 270 slots to 129th after being rated 399th in Money's inaugural ranking poll last year.

"The Money Magazine ranking looks at the value of the educational experience at colleges and universities that are already proven in their ability to deliver a high quality education," says James A. Troha, president of Juniata College. "That Juniata has appeared on the list and shown such an ascent speaks to the way our faculty, staff, and students themselves are focused on creating a transformational experience that provides value throughout the lives of our graduates."

Money Magazine started its higher education rankings last year focused on institutions that provide the best value. To best analyze the best value colleges and universities, Money screened out schools with graduation rates below the median, institutions experiencing financial difficulties and those with fewer than 500 undergraduates. That left 705 colleges and universities to be rated in three categories: educational quality, affordability and alumni success.

Money also measured comparative value by assessing what is expected for students with similar economic and academic backgrounds, and each college's mix of majors.


"That Juniata has appeared on the list and shown such an ascent speaks to the way Juniatians are focused on creating a transformational experience that provides value over the lives of our graduates."

James A. Troha, Juniata president
The colleges and universities rated above and below Juniata are: North Carolina State University in Raleigh, N.C. (128th); Juniata at 129; Ohio State University, in Columbus, Ohio (130th); Cal Poly, San Luis Obispo (131st); and Iowa State University, in Ames, Iowa.

Ten colleges and universities in Pennsylvania, including Juniata, were rated in the top 150 best values. They include: University of Pennsylvania (26th); Lafayette College (69th); St. Vincent College (78th); Muhlenberg College (87th); Swarthmore College (100th); Lehigh University (103rd); Gettysburg College (114th); St. Francis University (140th); and Messiah College (147th).

"I think our ranking reflects that our recent graduates were outstanding students that are now doing very well in the world," says Carlee Ranalli, director of institutional planning and research. "They graduated at higher rates than previous classes and were able to find good jobs allowing them to pay their loans. It also reflects that Juniata has remained affordable for our students in a very competitive market."

--Some of the factors Money considered under quality of education are: six-year graduation rate; peer quality test scores of freshmen and yield; instructional quality through student-to-faculty ratios; and value-added graduation rate, which is the difference between the actual graduation rate and the expected rate.

--Under affordability, factors considered were: net price of degree; debt, to include student debt plus parent federal PLUS loans; student loan repayment and default risk; value-added student loan repayment measures; and affordability for low-income students.

--Factors considered under outcomes are: graduate earnings according to payscale.com; earnings adjusted by majors; College Scorecard's 10-year earnings data; Brookings Institution analysis of the market value of alumni skills; comparative value earnings; career services effectiveness; and "job meaning."

Contact April Feagley at feaglea@juniata.edu or (814) 641-3131 for more information.