Three Juniata Music Groups Perform Concert
(Posted September 19, 2016)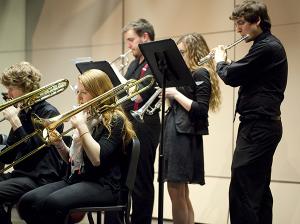 Juniata File photo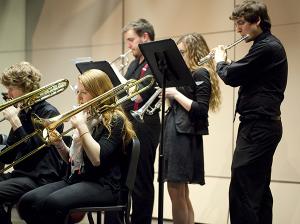 Juniata File photo
            HUNTINGDON, Pa. – The Juniata College Wind Symphony, Jazz Ensemble and Concert Band will be performing a "Preview of Bands" concert at 2 p.m., Sunday, Sept. 25 in Alumni Hall in the Brumbaugh Academic Center on campus.
            Tickets are $5 for adults and free for those under age 18, or Juniata students with valid ID. The groups are directed by James Latten, professor of music at Juniata.
            The Juniata College Jazz Ensemble will start the concert off with "Cute," by Neil Hefti. Hefti is best known for his composition of the title song for the 1960s television series, "Batman."
            The Jazz Ensemble will follow that up with their performance of "Honk," by Jeff Jarvis. Jarvis is a noted composer who has developed works for schools, military bands and other professional music groups. He is currently the director for the Central New York Jazz Orchestra.
            Following the Jazz Ensemble will be the Juniata Concert Band. They will be performing three songs: "Strike Up The Band," by George Gershwin, "Irish Tune From County Derry," by Percy Aldridge Grainger and will be ending with "Blue Alien Accumulation," by Timothy Broege.
Photo by Gordon Dimmig '17
            Gershwin is best known for his composition of "Rhapsody in Blue." He and his brother Ira are considered to be two of the best song writers of the early 20th century.
            Born in Australia in 1882, Percy Aldridge Gainer moved to the United States and performed countless charity concerts to help support World War II troops overseas. He made 274 appearances in front of the Army and Air Force to raise morale.
            Broege has written music for the Monmouth Symphony Orchestra, Garden State Philharmonic Orchestra, the U.S. Military Academy and many other professional groups and individuals around the world.
            The last group to perform will be the Juniata College Wind Symphony. They will start their performance with the "Juniata College Alma Mater," by Ward and Rowland, arranged by James Latten. The Alma Mater has been sung on campus since it was first composed in 1926.
            After that, they will be performing "Shenandoah," by Frank Ticheli. Ticheli is an American composer who is currently working as a professor of composition at the University of Southern California.
            The final song for both the Wind Symphony and the final song of the performance will be "Hebrides Suite," by Clare Grundman. Grundman served as a military musician from 1942-1945, and then wrote scores for films, radio, television shows and Broadway musicals in addition to composing for symphonic bands.
Written by Joey DiGangi '18
Contact April Feagley at feaglea@juniata.edu or (814) 641-3131 for more information.