She's No Scrabble Dabbler: Juniata Student is International Champ
(Posted September 26, 2016)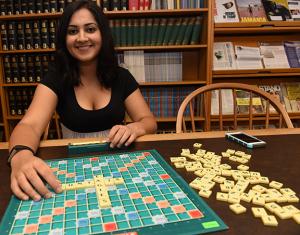 Photo by J.D. Cavrich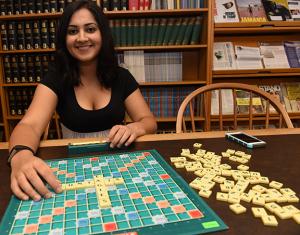 Photo by J.D. Cavrich
   HUNTINGDON, Pa. -- Nitya Chagti, a sophomore at Juniata College studying history, has herself made a bit of recent history. The international student from Delhi, India, recently placed in the Top 20 at a recent International Scrabble Championship, held in India, which spells out s-u-c-c-e-s-s in any country.
            Chagti, who is fluent in English, started playing Scrabble to help improve her language skills. She began by playing with her mother and then she entered a Scrabble tournament. At age 12.
            "I lost spectacularly," she says with a smile. "I wanted to do better so I decided to start playing online."
            So the 12-year-old Nitya joined the International Scrabble Club, which soon had the budding word maven battling Scrabble players from all over the world. She estimates she played Internet Scrabble for about two hours every day after she returned home from school. She also started playing in Scrabble tournaments right after that. In her first year competing, Chagti placed third in the Delhi State Championships, and the next year she placed first.
            However, the Scrabble she plays is not the relaxed home pastime of no time limits and endless arguments about whether "limn" is a word. "Scrabble utilizes not only words, but also time management, strategy and psychology," she explains.
"Anyone can get bad tiles, so everyone has a chance to win the game no matter how experienced your opponent is."

Nitya Chagti, international student from India
For example, the Internet games she plays are timed and the style is called "blitz" Scrabble. Players can use 6-minute, 12-minute or 15-minute games. Each player is on a timer, much like the clocks used in chess. All of this prepares elite players like Chagti for tournament games.
In Scrabble tournaments, the games have a time limit of 50 minutes, with each player allowed 25 minutes to make moves. "This is where time management comes in," Chagti says. People should try to average one to three minutes per move."
Scrabble is played on a board, where two to four players use the game's 100 tiles to form words either across or down the gridded gameboard. There are 100 tiles used to form words, 98 of which have a single latter of the alphabet with varying point totals attached. The other two tiles are blank and can be used as a substitute for any letter. Commonly used letter such as vowels, are worth one point. Less common letters, such as Q and Z, are worth 10 points.
Chagti points out that while Scrabble rewards players with the ability to memorize words and to ignore distractions, she also likes the democratic nature of the game. "Anyone can get bad tiles, so everyone has a chance to win the game no matter how experienced your opponent is," she says.
To get to the World Scrabble Competition, held in a different international city each year, players must come in first or second in their national championship. So far, Chagti hasn't attained that level of success, but in her latest international-level competition, right before she returned to Pennsylvania to start the school year, she was the highest ranked female and defeated the Pakistani national champion. She also has played in tournaments in Sri Lanka and the United Arab Emirates.
While top-level Scrabble players do try to gain an edge in competition, player behavior is generally exemplary compared to other sports. For example, a top player would never knowingly try to pass off a word, a practice Scrabblers call "playing a phony." "There is no trash talking, that would be considered rude," she explains. She does have a favorite word or two to play in games. Here's one: caziques, which means either "tribal chief" or a tropical bird species.
During her college career Chagti is cutting back her competition play, although she can't imagine giving up the game entirely. Scrabble is one of my first loves," she says. "After college, I think I will come back to it later in life."
Contact April Feagley at feaglea@juniata.edu or (814) 641-3131 for more information.