Juniata Theatre to Stage 'Little Shop of Horrors' Musical
(Posted October 26, 2016)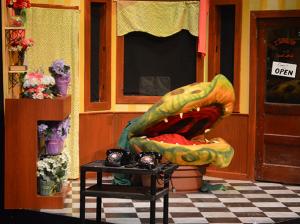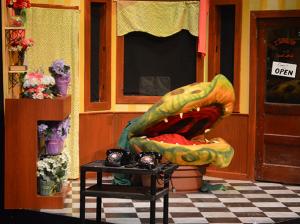 HUNTINGDON, Pa. -- This fall, Juniata College students will learn a valuable lesson: "Don't feed the plants!" The characters in the theatre department's first production of the year, "Little Shop of Horrors," underline this advice when a giant plant arrives on set with a large appetite. The musical will be shown at 8 p.m. from Friday, Oct. 21 to Sunday, Oct. 23, and again on Oct. 27-29 in the Suzanne von Liebig Theatre, in the Halbritter Center for Performing Arts.
            "Little Shop of Horrors" centers on Seymour Krelborn and his love interest, Audrey. Their lives are forever changed when a mysterious plant appears. Seymour takes the plant home and nurtures it so it grows bigger, stronger -- and meaner. As the plant, which Seymour affectionately names Audrey II, continues to grow, Seymour is met with temptation that promises him all his heart's desires.
             "Little Shop of Horrors" got its start on the big screen in 1960, as a black-and-white film, produced by Roger Corman. The movie version was adapted into its musical form by Howard Ashman. The musical premiered in 1982, in an off-Broadway production.
            At Juniata, the musical will be directed by Tara Giordano. She has directed plays and musicals for an array of schools that include Middlebury College, where she also taught classes, Boston University and Stephens College's professional production company. Since 2006, Giordano has taught various classes at Juniata that include improvisation, improvisational comedy and performance lab where she worked with students on skills that include: trapeze, movement and mime.
            Going into the production, Giordano was excited about the prospect of collaborating with Gabriel Gould, the music director, as well as Nate Dryden, who is working as a movement coach, and controlling the puppets used in the production. The largest puppet is the monster plant, Audrey II, which is approximately the size of a Volkswagen Beetle.
"There is a heightened nature to the storytelling with musicals because with the actors break into song."

Tara Giordano, director
            In general, she feels that telling a story through song adds to the overall experience of the show. "There is a heightened nature to the storytelling with musicals because with the actors break into song; so it's this idea of 'I can't speak anymore so I'm going to sing,'" she says.
            The cast of "Little Shop of Horrors" is as follows: Carlos Velasco, an international student from Veracruz, Mexico; Tzipi Crandell, a junior from Needham, Mass.; Emily Spezial, a senior from Nyack, N.Y.; Christine Reilly, a junior from Nashua, N.H.; Jamey Rondeau, a freshman from Harrisville, R.I.; Cosimo Sciortino, a freshman from York, Pa.; Vasilisa Urvanova, a freshman from Winchendon, Mass.; Julian Andaya, a freshman from Silver Spring, Md.; Keitaro Taylor, a sophomore from Lancaster, Pa.; and Max Martin-Udley, a sophomore from Silver Spring, Md.
Members of the crew include: Kaitlin Wyatt, a junior from Johnstown, Pa.; Lana Boyd, a freshman from Panhandle, Texas; Aiden Borgart, a freshman from Huntingdon, Pa.; Josh Kutz, a senior from Altoona, Pa.; Aubrie Christensen, a junior from Suwanee, Ga.; Carly Altenberg, a junior from Mount Laurel, N.J.; Wynter Adams, a sophomore from Houtzdale, Pa.; Curtis King, a sophomore from Huntingdon, Pa.; Katie Dickins, a junior from South Hadley, Mass.; Brent Sterner, a senior from Duncannon, Pa.; Dustin Shuey, a junior from Phillipsburg, Pa.; Augusta Claire DeLaval, a senior from St. Paul, Minn.; Nasir Ellison, a junior from Philadelphia, Pa.; Peter Rankin, a freshman from Mount Joy, Pa.; Joey DiGangi, a junior from Easton, Pa.; Julia Wagner, a sophomore from Freeland, Md.; Jaime Fell, a junior from Vanderbilt, Pa.; Dana Spann, a senior from Philadelphia, Pa.; Dalaina Ecker, a sophomore from Altoona, Pa.; Justine Hibbard, a freshman from Woburn, Mass.; and Cody Wilson, a freshman from Wellington, Va.
Written by Joey DiGangi '18
Contact April Feagley at feaglea@juniata.edu or (814) 641-3131 for more information.