Alter-Native Music: Lakota Duo Rocks Out
(Posted October 31, 2016)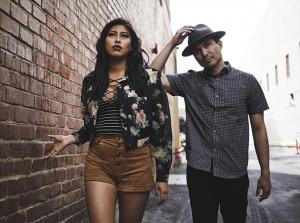 File photo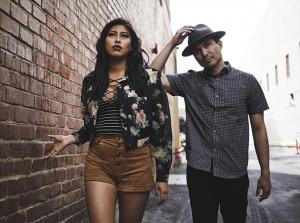 File photo
HUNTINGDON, Pa. -- The hard-rock duo Scatter Their Own, comprised of husband-and-wife team Scotti Clifford and Juliana Brown Eyes-Clifford, will bring their unique blend of stripped-down rock to Juniata College at two concerts at 7:30 p.m., Wednesday and Thursday, Nov. 9 and 10, in the Suzanne von Liebig Theatre in the Halbritter Center for the Performing Arts.
For tickets and information about the Juniata College Presents series, please call (814) 641-JTIX (5849). General admission tickets for single performances are $20, except where otherwise noted. Single-show tickets for seniors over age 65 and children age 18 and under are $12. Juniata College students are admitted free with a student ID.
            The band describes their music as "paying tribute to the concepts and philosophy of the Lakota culture, while fusing rock and roll, blues, and alternative music into what they call alter-Native rock and roll."
            Scotti and Juliana Clifford are of Lakota Oglala ancestry and formed their band on the Pine Ridge Indian Reservation in South Dakota. Although the Cliffords are the creative minds behind the band's music, the group performs as a full-fledged rock band. Scotti plays lead guitar, while Juliana plays bass.
            The band recently released "Taste the Time," an award-winning video. The band also has released an album, also named "Taste the Time." The band maintains a national touring schedule and is currently recording a new album.
"We realized we could reach more people through our music without having to give up what we believe in."

Scotti Clifford
The band has performed on college campuses throughout the country and has performed at the SXSW Festival in Austin, Texas for the past two years.
            They list among their influences Marvin Gaye, Jimi Hendrix, John Lennon, Black Elk, Sitting Bull and Crazy Horse. Scotti Clifford characterizes their music as anthems to Mother Earth, although they also play intense cover versions such as Iggy and the Stooge's "I Wanna Be Your Dog." The band often travels and performs with their teenage children Scott, and Wahpe Waste Win. Native American artist Ehren Natay often sits in on drums.
            The group has been nominated for Best Music Video, Best New Duo or Group and Best Rock Recording at the 2016 Native American Music Awards.
"Whether we're talking about mascots, peace or justice or the environment, those things are important to us, and we realized we could reach more people through our music without having to give up what we believe in," says Scotti Clifford in the magazine Native Peoples.
Scatter Their own takes its name from a loose translation of the name Oglala, one of the seven bands of the Lakota Sioux.
Contact April Feagley at feaglea@juniata.edu or (814) 641-3131 for more information.