Golden Age Jams: Big Band Jazz Explored
(Posted October 31, 2016)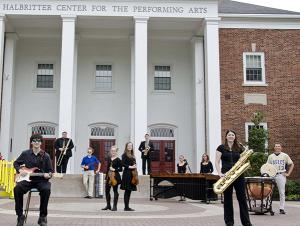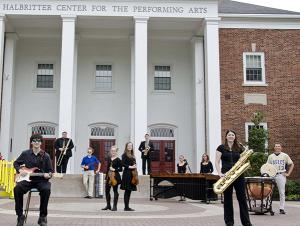 HUNTINGDON, Pa. -- Music from the Golden Age of big band jazz and the experimental days of 1970s fusion will be featured at the Juniata College Jazz Ensemble concert at 3 p.m., Saturday, Nov. 12, in Rosenberger Auditorium in the Halbritter Center for the Performing Arts.
            Tickets for the concert are $5 and free for anyone under age 18 or Juniata students with valid and current ID. The director of the Jazz Ensemble is Jordan Canner, a lecturer in music at Juniata.
            The repertoire for the concert will open with "Honk," written by Jeff Jarvis, which highlights the saxophone section, as the title suggests. Next, the band will take on "Blues in Hoss Flat," written by Frank Foster and Count Basie for Basie's big band.
            The next selection will be "Caravan," by Duke Ellington and Juan Tizol. "Caravan" used big band instrumentation to form an exotic "world music" sound. Following Ellington will be "For Lena and Lennie," written by Quincy Jones. Jones, whose prolific writing includes big band, television and film scores and contemporary pop hits, is best known as the producer of Michael Jackson's albums "Off the Wall" and Thriller." "Lena and Lennie" is a tribute to singer Lena Horne and her husband, Lennie Hayton.
            The band will then play "Gospel John," a classic instrumental made famous by trumpeter Maynard Ferguson. The tune was written by Jeff Steinberg. Next, the band will continue its exploration of 1970s music by playing "Chameleon," by Herbie Hancock. The song, famous for it's funk-inspired bass line, is from Hancock's classic "Headhunters" album.
            The mood shifts back to big band when the ensemble plays "Cute," by Neil Hefti. Best known for his Hollywood work, where he composed the theme for the "Batman" TV show, Hefti started his career as an arranger with bandleaders Woody Herman and Count Basie.
            The concert will end with "Carvin' the Punkin," by Mike Dana, which uses a "spooky" drums solo to start off, and follows with a foreboding instrumental jam.
Contact April Feagley at feaglea@juniata.edu or (814) 641-3131 for more information.