Sing, Sing, Sing: Juniata Choral Union Sets Concert
(Posted November 7, 2016)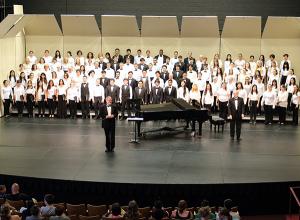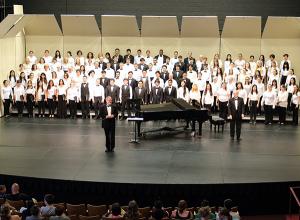 HUNTINGDON, Pa. 'Äď On Nov. 6, the Juniata Music department will have its Choral Union tackle a multitude of pieces that include works that range from the early 18th century to present day. The concert will be held at 7:30 p.m. in Rosenberger Auditorium, in the Halbritter Center for the Performing Arts.¬†
            The concert is free and open to the public. The Choral Union is directed by Russell Shelley, Elma Stine Heckler Professor of Music.
¬†¬†¬†¬†¬†¬†¬†¬†¬†¬†¬† The first song on the program is, 'ÄúLike a Mighty Stream,'ÄĚ which was composed by Moses Hogan. Hogan was a pianist, conductor and arranger best known for his African-American spiritual pieces.
¬†¬†¬†¬†¬†¬†¬†¬†¬†¬†¬† Next, it will perform, 'ÄúTo Everything There Is a Season,'ÄĚ by Ed Harris. Harris is best known for his performances as an opera singer, and as a composer.
¬†¬†¬†¬†¬†¬†¬†¬†¬†¬†¬† German composer Dietrich Buxtehude'Äôs piece, 'ÄúAuf! Stimmet die Saiten,'ÄĚ which translates to 'ÄúOn! Bustle the strings,'ÄĚ will take the Choral Union back to the Baroque period. Buxtehude'Äôs works are said to have been major influencers of other famous composers like J.S. Bach.
¬†¬†¬†¬†¬†¬†¬†¬†¬†¬†¬† The group ensemble will sing, 'ÄúOye,'ÄĚ was composed by Jim Papoulis. His works are known for mixing classical and traditional styles of music with non-Western styles.
¬†¬†¬†¬†¬†¬†¬†¬†¬†¬†¬† Eugene Butler, whose compositions have earned him the ACAP Standard Music Panel Award every year since 1972, composed the next piece, which is titled, 'ÄúSilence of the Night.'ÄĚ
¬†¬†¬†¬†¬†¬†¬†¬†¬†¬†¬† ¬†Flory Jagoda, a Jewish singer-songwriter and composer came to America after evading capture by the Nazis in Bosnia during World War II. The vocal group will be performing one of her works, 'ÄúHamisha Asar,'ÄĚ which takes elements from Bosnian folk music
¬†¬†¬†¬†¬†¬†¬†¬†¬†¬†¬† The Choral Union will follow that with, 'ÄúThere Is A Time,'ÄĚ by Douglas E Wagner. Warner is an internationally known composer.¬†
¬†¬†¬†¬†¬†¬†¬†¬†¬†¬†¬† Another music-educator, Brad Printz, composed the next piece that will be performed: 'ÄúAhrirang,'ÄĚ a Korean-influenced piece.
¬†¬†¬†¬†¬†¬†¬†¬†¬†¬†¬† The group will then take on 'ÄúLet Beauty Awake,'ÄĚ by Michael Larkin, who has composed over 300 choral compositions.
¬†¬†¬†¬†¬†¬†¬†¬†¬†¬†¬† Ruth Morris Gray, an AP music teacher, composed the Japanese song, 'ÄúMomoshiki Ya.'ÄĚ The choir will then perform, 'ÄúEl cielo canta alegria,'ÄĚ by Argentinean composer, Pablo Sosa.
¬†¬†¬†¬†¬†¬†¬†¬†¬†¬†¬† 'ÄúCantate Domino,'ÄĚ was written by Giuseppe Pitoni, an Italian composer. Like Buxtehude'Äôs song, Pitoni'Äôs works come from the Baroque period as well.
¬†¬†¬†¬†¬†¬†¬†¬†¬†¬†¬† The ensemble will move from Italy to China for their next song, 'ÄúMoh Lee Hwah,'ÄĚ which is a Chinese folk song that means, 'ÄúJasmine Flower.'ÄĚ
¬†¬†¬†¬†¬†¬†¬†¬†¬†¬†¬† The last song being performed will be, 'ÄúAmani,'ÄĚ which is a Swahili song composed by Audrey Snyder. Snyder has been producing various styles of choral songs since 1978.
            The Choral Union is the largest choral ensemble at Juniata with a student membership of more than 90 and more than 50 members from communities in the Huntingdon area. The Juniata Choral Union traditionally performs larger choral works.
Written by Joey DiGangi
Contact April Feagley at feaglea@juniata.edu or (814) 641-3131 for more information.