Afro-Caribbean Music is Focus of Tiempo Libre
(Posted November 21, 2016)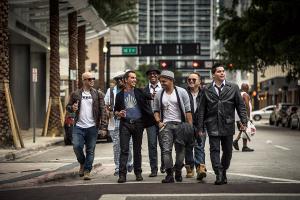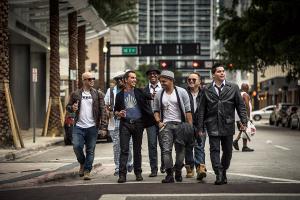 HUNTINGDON, Pa. -- Seven musicians, all trained at conservatories in Cuba, will put the cha-cha-cha into Afro-Caribbean music as Tiempo Libre performs at Juniata College at 7:30 p.m., Thursday, Dec. 1 in Rosenberger Auditorium in the Halbritter Center for the Performing Arts on the Juniata campus.
            For tickets and information about the Juniata College Artist Series, please call (814) 641-3605. General admission tickets for single performances are $20, except where otherwise noted. Single-show tickets for seniors over age 65 and children age 18 and under are $12. Juniata College students are admitted free with a student ID.
            Combining jazz harmonies, Latin beats and contemporary instrumentation, Tiempo Libre has been entertaining audiences across the globe since forming in Miami in 2001.
            The group is touring in support of its new album, "Panamericano" released earlier in June. Two singles "Dime Que No," and "Somebody to Love Me" are currently in airplay on Latin music radio stations nationwide.
            In addition, the band is coming off a five-week run of performing live every night as the group played a new musical "Cuba Libre," at the Winningstad Theare in Portland, Ore. The musical is based on the lives of the members of Tiempo Libre and features 21 actors and musicians.
Your body will suddenly develop amazing rhythm -- regardless of whether you usually have any -- when the band starts playing."

Dallas Morning News
            The band was founded by Jorge Gomez, a renowned musician in Cuba who settled in the United States 15 years ago. Over time he formed a group staffed by musicians with whom he had studied at La ENA Havana, a rigorous music conservatory in Cuba.
            The group has released four previous albums. Its 2005 debut album, "Arroz con Mango," was nominated for a Grammy Award and it was followed in 2007 by "Lo Que Esperabas -- What You've Been Waiting For."  Two other albums were "Bach in Havana," in 2009, fused the classical works of Bach with Afro-Cuban rhythms, and "My Secret Radio," in 2011, which contains the group's arrangements of American and Latin hits that the group members listened to on forbidden radios after the Cuban government outlawed reception of American radio stations.
            "If you can stay seated through a Tiempo Libre show, check your pulse. Your body will suddenly develop amazing rhythm -- regardless of whether you usually have any -- when the band starts playing," wrote a critic at the Dallas Morning News
The members of the Tiempo Libre are as follows: Jorge Gomez, piano; Xavier Mili, vocalist; Wilber Rodriguez Guerra, bass; Luis Beltran Castillo, saxophone and flute; Leandro Gonzalez, congas; Michel Ruiz Garcia, trumpet; and Israel Morales Figeroa, drums.
Contact April Feagley at feaglea@juniata.edu or (814) 641-3131 for more information.