No Humbug Here: Juniata Presents 'Christmas Carol' Reading
(Posted December 5, 2016)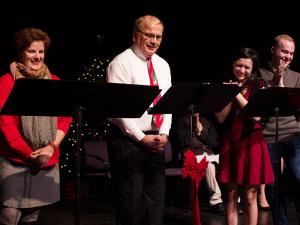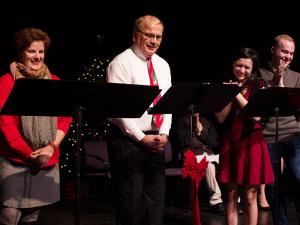 HUNTINGDON, Pa. – Juniata Theatre students will be telling a classic Christmas story over 170 years in the making with their reading of "A Christmas Carol" at 8 p.m., Saturday, Dec. 10 in the Suzanne von Liebig Theatre in the Halbritter Center for the Performing Arts on the Juniata campus.
            Admission is free, but donations are encouraged and all proceeds will be directed to benefit the J.C. Blair Memorial Hospital Foundation.
            "A Christmas Carol: The Reading" is directed by Neal Utterback, assistant professor of theatre, who has staged the reading each year since 2013.
            "A Christmas Carol," was first published in 1843, and was written by Charles Dickens. Since then, it has been told and retold countless times. On television and in theaters, stars such as Jim Carrey, Mickey Mouse, George C. Scott and Kermit the Frog have all put their own twist on the classic Christmas tale. Utterback will be using an adaptation by Mary Hausch, a playwright and director.
            The show will feature a cast of volunteers from the school. Audiences can also look forward to, "special, secret guest stars," as Utterback describes them, who will be participating in the reading.
            Jim Latten, professor of music, will be providing the music for the event. He has also reached out to a band of volunteer street musicians, who will be accompanying him.
            Utterback hopes that this year's show will bring a little Christmas-spirit to all of the students and community members who attend. "Every year we hope to grow the reading a little more and strengthen our ties to the community," Utterback says.
Contact April Feagley at feaglea@juniata.edu or (814) 641-3131 for more information.