Student Group Meets to Discuss Climate Change
(Posted February 13, 2017)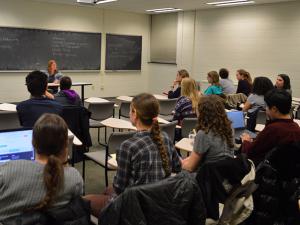 Photo by Anisah Pasquale '18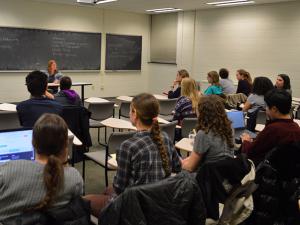 Photo by Anisah Pasquale '18
Juniata College, community members and Penn State University are working together to fight climate change. The Juniata branch of the Citizen's Climate Lobby meets once every two weeks to discuss and prepare to take concrete actions in order to influence policy and public opinion.
At last week's meeting, students paired off in order to rehearse a summary of a main Climate Change Lobby proposal: The Carbon Fee and Dividend. This legislation proposal would impose a tax on the companies directly producing the carbon emissions, with 100 percent of the net gain from the fee being redistributed evenly to middle- and low-income families so that they can break even despite the higher prices they'll be paying for those companies.
Following that, they created five action groups that would work together to create the concrete actions needed to make positive change on campus and in the rest of the state. These groups were: Writing Legislators/Letters to the Editor; Events/Tabling; Leadership and Organization; Endorsements; and Presentations.
Jeremy Chen See, a freshman from Fleetwood, Pa., was one of the 30 students present. He chose to attend this meeting because he feels, "very strongly that we should try to do something to lessen the effects of climate change. Although we don't know the full effect of what would happen, if for nothing else we should work against what could happen."
This group was started by Sharon Yohn, assistant professor of chemistry. She works with the community members and Penn State branches in order to bring this issue to our campus. Her interest in climate change began several years ago. Her interest with Citizen's Climate Lobby began when she, "taught about climate change and environmental science and it scared the bejeebers out of me. I then heard a talk by a famous climate change scientist about three years ago, and he recommended the Citizen's Climate Lobby." She then went and, "signed up on the website and when I saw a group at State College (Pa.) begin to form and I got involved there. It was a great way to feel like a part of a group that's taking meaningful action."
"Last fall we had a talk about the effect of climate change on wildlife and the Citizen's Climate Lobby," Yohn said. "It was well attended, and actually was the spirit of Kendra Bierman (a Juniata sophomore from York, Pa.) that drove me to start the group here in Huntingdon."
For any students interested in helping this group create change in the world, the next meeting will be at 8 p.m. on Tuesday, Feb. 21 in BAC C232. You can also email Sharon Yahn or Kendra Bierman for more information.
Isabella Bennett '20, Juniata Online Journalist
Contact Gabe Welsch at welschg@juniata.edu or (814) 641-3131 for more information.