Ask Questions: International Student from Hanoi, Vietnam, Wins Bailey Oratorical
(Posted March 1, 2017)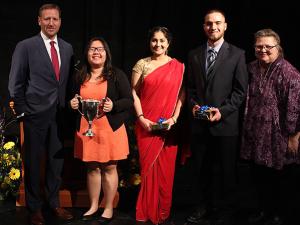 Photo by Amber Boring '17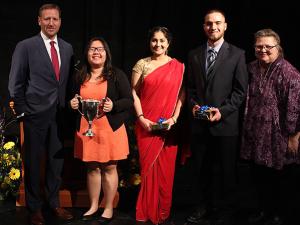 Photo by Amber Boring '17
HUNTINGDON, Pa. -- Anh Ha, a senior international student from Hanoi, Vietnam, received the first-place award Tuesday, Feb. 28, at the annual Juniata College Bailey Oratorical Contest by arguing that a liberal arts education challenges the assumptions that often divide people by inspiring students to ask curious, critical and courageous questions.
            Ha, who received $1,000 for the First Place award, and six other contestants were asked to address "At the heart of the liberal arts in civic engagement: how can we use the values of our liberal arts education to heal the divides in our nation and world?"
Before a trio of judges and cheering students in the von Liebig Theatre in the Halbritter Center for the Performing Arts on the Juniata campus, Ha explained the most effective value of a liberal arts education is its ability to nurture curiosity, saying, "My friend(s) and I learned to jump out of our comfort zones and to ask a lot of questions -- a lot of good, difficult and brave questions. Without questioning the background of one another, we would not be united but divided."
Ha went on to say that as students recognize "those differences, we can use critical questions to challenge and accept, but not ignore our differences. We don't ask just for the sake of asking. We ask with purpose."
She underlined that people also need to ask courageous questions, "which encourages us to cherish, instead of fear our differences. These are the questions we must ask ourselves," she said.
"Ask with a curious, critical and courageous spirit, to climb over any wall that separates us from the cool people we love, and more importantly, from the ones we don't."

Anh Ha, senior, Hanoi, Vietnam
Nitya Chagti, a sophomore international student from New Delhi, India, earned the second-place prize, receiving $500. Xavier Cachon, a senior from Bala Cynwyd, Pa., was awarded the third-place prize, receiving $300.
            In her winning speech, Ha quoted Voltaire's maxim "Judge a man by his questions rather than by his answers" and argued for the power of questions, noting, "Courageous questions require self-reflection and empathy. It is how we critically evaluate society's differences and our own individual values."
Ha concluded by saying, "No matter where I go, liberal arts values will always be with me. They remind me in any action I make that the enemy that divides us is our assumptions, not our differences. And the only way to challenge assumptions is to ask. Ask with a curious, critical and courageous spirit, to climb over any wall that separates us from the cool people we love, and more importantly, from the ones we don't."
The remaining four finalists were: seniors Claire DeLaval, of St. Paul, Minn., and Victoria Wolf, of Saint Leonard, Md.; juniors Maeve Gannon, of Pittsburgh, Pa., and Anne-Marcelle Kouame, of Germantown, Md. The People's Choice Award, the after-contest competition where those who attended the event vote for their favorite competitor, also was won by Anh Ha.
            Judges for the event were:
--Catherine Krugh, senior vice president and chief financial officer at Union Community Bank in Lancaster, Pa. She is a 1998 graduate of Juniata College and previously served as vice president and controller. She started her career at the bank in 2006. She earned an MBA from Penn State University.
--Dr. Patrick Konitzer, a 1987 Juniata graduate, is medical director of anesthesia at Geisinger-Shamokin Area Community Hospital in Coal Township, Pa.  He earned his medical degree from the Albert Einstein College of Medicine of Yeshiva University in 1997. Previously he was chief of anesthesiology at Wadley Regional Medical Center in Texarkana, Texas medical director of anesthesia at Ashland Regional Medical Center in Ashland, Pa..
--Michael Elavsky is an associate professor of media studies at Penn State University. He earned a bachelor's degree from SUNY-Binghamton, and went on to earn a master's degree from the same institution. He earned a doctorate from the University of Illinois.
The original Bailey Oratorical Award was established in 1910 by Letitia Fisher Bailey and the Honorable Thomas F. Bailey, who served as president judge of Huntingdon County from 1916 to 1936. The contest is named in honor of John M. Bailey, the father of Thomas Bailey, and a former Huntingdon County president judge.
            The oratorical contest has a long tradition at Juniata College, as students from all areas of study can compete for the monetary prize. The original prize for the contest was $15 and $25. An enhanced endowment contribution by Judge Bailey's son-in-law Colonel Sedgley Thornbury, provides the contest's prize money. In addition, the name of the winner will be permanently inscribed on an antique loving cup presented to the college by Colonel Thornbury's son, Thomas Bailey Thornbury.
Contact April Feagley at feaglea@juniata.edu or (814) 641-3131 for more information.