Brazilian Bop: Musician Baptista to Perform Concert at Juniata
(Posted March 13, 2017)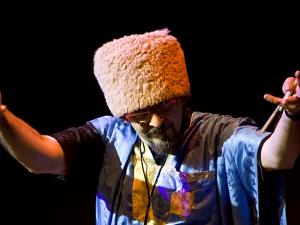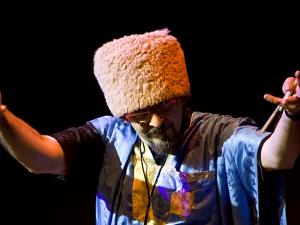 HUNTINGDON, Pa. – Brazilian composer and percussionist Cyro Baptista will perform at Juniata College at 7:30 p.m. on Saturday, March 25 in Rosenberger Auditorium in the Halbritter Center for the Performing Arts.
Baptista and his band, Banquet of the Spirits, take instruments and influences from Brazil, the Middle East, Indonesia, Africa and the United States. The group specializes in performing jazz and world music with Afro-Brazilian rhythms.
            Baptista's performance is part of the Juniata Presents series. For tickets and information about the Juniata Presents series, please call (814) 641-JTIX (5849). General admissions tickets for single performances are $20, except where otherwise noted. Single-show tickets for seniors over age 65 and children age 18 and under are $12. Juniata College students are admitted free with a student ID.
            Since coming to the U.S. in 1980, Baptista has performed with numerous musicians covering a wide range of musical styles. His musical partners have included Yo-Yo Ma, Bobby McFerrin and Jay-Z.
            Baptista's musical style is energetic, fast and exciting. His songs include a unique blend of sounds producing infectious, danceable rhythms. To do this, Baptista and his band turn items such as refrigerators, newspapers and vacuum cleaner hoses into musical instruments. These random objects join an ensemble of more traditional instruments, such as a piano, drums and a double-bass in a way that cam make audiences wonder how such a wide variety of instruments can work so well together. The music is paired with vocal performances and dance moves that are just as distinctive to create a performance that cannot be seen anywhere else.
"Mr. Baptista's band is Brazilian Carnival crossed with Lower East Side performance art."

Jon Pareles, critic, New York Times
            Jon Pareles, of the New York Times has described their performance as, "An assemblage of musicians and dancers in outrageous costumes, banging on drums for all they're worth -- Mr. Baptista's band is Brazilian Carnival crossed with Lower East Side performance art. It makes a ruckus, and it's wild, vivid entertainment."
By Joey DiGangi
Contact April Feagley at feaglea@juniata.edu or (814) 641-3131 for more information.