Pinning Down Achievement: Honoring Those Who Help
(Posted March 20, 2017)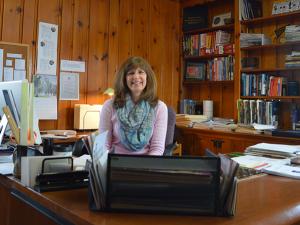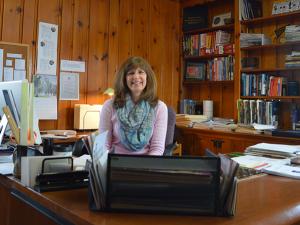 On March 13, the Juniata Marketing Department unveiled its "Pinning Program" as a part of the Founders' Day celebration and an extension of the Brand Celebration.
Although it's true that in the '40s and '50s, the men in fraternities would give their pins to their girlfriends, these pins are much more important. Members of the Juniata community can nominate one person, whether that be a student, faculty, or staff, who has made an impact in their life. The idea in part, was a way to show appreciation for those who have supported us in our Juniata journeys but also a way for the marketing department to pull out more great Juniata stories. Candice Hersh, Juniata's associate director of marketing, described it as, "a catalyst for storytelling."
For now, you can only nominate one person to receive a Juniata pin, but that does not prevent a person from being nominated more than once. It forces you to think about who rises to the top of your list in terms of support, inspiration or importance. The nomination process allows students to nominate professors and professors to nominate students. Reasons for nomination can range from someone simply making Juniata feel more like home to a professor who has been a strong mentor in your life.
The pins, and their subsequent stories, highlight the strong and supportive community that Juniata hails as one of its four key messages. The "Pinning Program" for Juniatians is to not only recognize the important people in their lives, as people participating and working in higher education, but also to give a moment of appreciation for the community itself that allows us to foster the relationships recognized in this program.
This program is meant to encourage face-to-face interactions, as when you pick up your pins in April (one for yourself and one for the person you recommended), you hand deliver that pin along with your message to them about why you chose them. The nomination form is simple and easy to fill out. The only information you need is your name, your email, the name of the person you're nominating, their position on campus (student, faculty, staff, or coach) and the reason why you feel they're deserving of your pin.
If you are looking to honor someone, check out the form at https://www.surveymonkey.com/r/PIN-tastic . 
By Isabella Bennett '20, Juniata Online Journalist
Contact Gabe Welsch at welschg@juniata.edu or (814) 641-3131 for more information.