Free-flowing Mural Emerges from Genocide Awareness Week
(Posted April 18, 2017)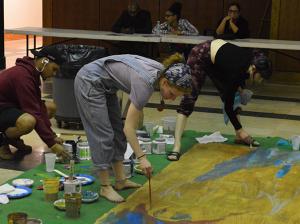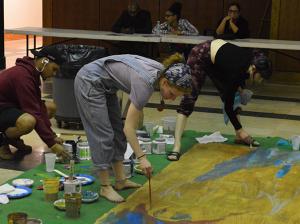 The students involved in Genocide Awareness week at Juniata, which ran from April 5 to April 10, added in a new element this year. In the downstairs lobby of von Liebig Center for Science, a public display of a Genocide Awareness and Action Mural painting occurred from 7-10 p.m. on April 5. Jane Shapiro, a junior from Endicott, N.Y.; Kerry Leonard, a junior from Cockysville, Md.; Maeve Gannon, a junior from Pittsburgh, Pa.; Davon Jackson, a senior from Deptford, N.J.; and Kaylie Penner, a freshman from Huntingdon, Pa. all contributed in creating this art. This mural will be permanently displayed on campus.
                  The idea for the mural came from Gannon and Savannah Parson, a junior from Slippery Rock, Pa. Artists from the Juniata community then came together to collaborate on this project. "The design for the mural went through many different phases," explains Shapiro. They planned to have mountains, water and people. They had planned out sketches. However it really came together when the artists started to paint. "As we kept working, things just kept playing out and we went with it," says Penner.
 "The whole process was collaborative and free-flowing," describes Shapiro. "I think the collaborative efforts of the mural symbolize positive human interaction." This is what she hopes viewers will take away from the piece. "I hope the mural will be a gate way to a free exchange of ideas," she says.
            Penner feels that art can be interpreted in various ways by different people and she hopes that many messages are passed on through this mural. She says also hopes that people will begin to think more deeply about genocide awareness and action and "implement those ideas in their own lives".
            "This was my first time reaching out of my artistic comfort zone and I'm glad that I was able to do so for a worthy cause and work with some extremely talented Junaitians," says Jackson. Overall the artists found the public painting to be a positive experience. Everyone who was involved in creating the mural hope that the it will be received in the same way and also evoke new ideas and emotions from the viewers.
Alex Webb, Juniata Online Journalist
Contact Gabe Welsch at welschg@juniata.edu or (814) 641-3131 for more information.