Multicultural Storyfest Cherishes Differences
(Posted May 8, 2017)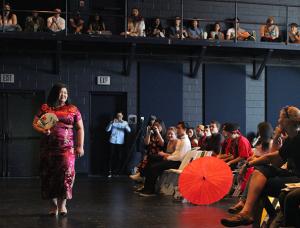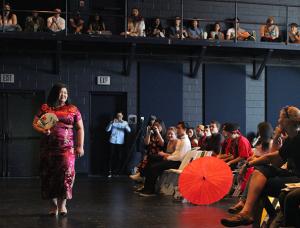 Multicultural Storyfest was held on April 20, as part of the Liberal Arts Symposium. It was held in the Black Box Theatre in Halbritter Center for Performing Arts. This event was held to showcase different cultures and heritage, and celebrate the diversity that lives throughout Juniata College.
This event was started in 2011 and founded by Grace Fala, special assistant to the president for diversity and inclusion and professor of communication, to "honor ethnicities, traditions and cultural values," she says. Close to 300 people attend each year to see performances of music, art, dances and beautiful costumes.
Masataka Mizuno, a senior from Japan, says Multicultural Storyfest "provides both an opportunity for students to share their culture and talent and for people at Juniata to learn about the world." Mizuno was co-organizer and part of the stage crew and sound. Thida Win, a senior from Huntingdon, Pa., was the other organizer. "I enjoyed seeing our passionate and courageous international and domestic students from multicultural and multinational backgrounds all gathered together to celebrate and cherish their differences through entertaining, informing and educating the audience with art, music, dances and literature from their respective cultures," she says.
The performers exposed the audience to cultures all around the world. "While we had joyous dances and lively songs, we also had thought-provoking poems that aimed to touch the hearts of our audience," explains Win. The students take what is meaningful to them and share it with the community. Fala says that some students even do this in each of their four years of study at Juniata.
Each year, Multicultural Storyfest sheds light on new cultures and ideas. Next year Kati Csoman, dean of international education, will help facilitate the event when Fala is on sabbatical. This will offer even more creativity into the already growing Multicultural Storyfest.
Alex Webb '18, Juniata Online Journalist
Contact Gabe Welsch at welschg@juniata.edu or (814) 641-3131 for more information.