Prestigious European Scholarships Awarded to Juniata Students
(Posted July 11, 2017)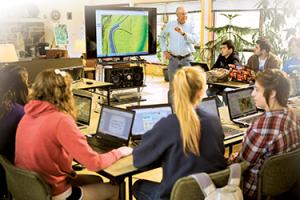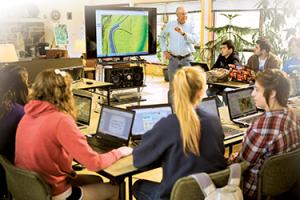 HUNTINGDON, Pa. – Three environmental science students at Juniata have received scholarships from Lille Catholic University's Institut Supérieur d'Agriculture de Lille (Groupe ISA), in France. The students are: Lauren Brandenburg, a senior from York Springs, Pa.; Hang Nguyen, a senior from Hanoi, Vietnam; and Ashley Schnackenberg, a senior from Poughkeepsie, N.Y.
These three students will be completing their senior years as undergraduates, while simultaneously starting their first year pursuing their master's degrees. The scholarships come from the Erasmus+ program, which helps make studying abroad easier for students and professors between countries in the European Union (EU) and non-EU countries. Juniata faculty worked together with professors at Lille Catholic University to submit the grant to Erasmus+.
A successful proposal to the Erasmus+ program is one that proves the EU and non-EU colleges involved have collaborated to make sure that students and professors get the most out of their experience abroad.
"Lille approached us about submitting a proposal to be funded for both student and staff mobilities," explains Kati Csoman, the dean of international education at Juniata. "We were judged on our relevance of the strategy, the quality of our cooperation arrangements, the quality of the activity design and implementation, and the impact and dissemination of students' experiences of intercultural learning as they enter their careers," says Csoman.
Each student who is awarded these prestigious scholarships will receive a travel grant of 820 euros and a monthly allowance of 850 euros for 10 months (8500 euros in total). The total amount is equivalent to more than $10,500.          
"Juniata's environmental science department is known for being strong," senior Ashley Schnackenberg says. "And, I was intent on studying in Lille even before my freshman year."
"The students chosen had already applied for the study abroad program in France," explains Csoman. "The professors in environmental science, and others including myself, were asked to give recommendations based on academic performance and commitment to their field of study."
Juniata's partnership with Lille Catholic University, which has existed since 1960, is one factor that drew Schnackenberg to Juniata.
"Juniata's environmental science department is known for being strong," she says. "And, I was intent on studying in Lille even before my freshman year."
The courses in Lille are taught in English, but students who travel to Lille—including the students who received the scholarship—typically study French before leaving. Their preparation includes taking language courses at Juniata and living with French students in Juniata's Global Village, a globally themed living and learning community where students interested in learning about other cultures can partake of in-depth cultural interaction and community development.
One of the exciting things about studying in Lille, in addition to the work they do in the classroom, is the opportunity for the students to learn about new cultures.
"I can't wait to compare France's approach to environmental science and sustainability and agriculture to the United States'," says Shnackenburg.
--Written by Joey DiGangi '18--
Contact April Feagley at feaglea@juniata.edu or (814) 641-3131 for more information.