Bindlestiff Family Cirkus to Perform at Juniata College
(Posted September 29, 2017)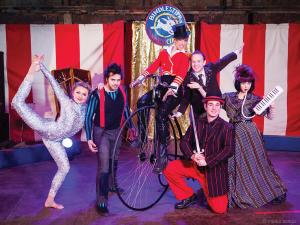 Courtesy: Bindlestiff Family Cirkus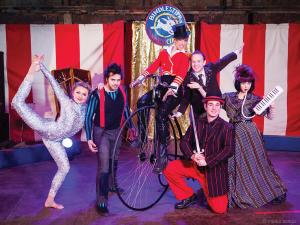 Courtesy: Bindlestiff Family Cirkus
Huntingdon, Pa. – The Bindlestiff Family Cirkus will be performing in a family-friendly event at Juniata College on Saturday, Oct. 7, 2017 at 7:30 p.m. in Rosenberger Auditorium, Halbritter Center for the Performing Arts. The performance is part of Juniata's 2017 Homecoming and Family Weekend.
                  "The event will be very engaging and appropriate for multiple ages and interest levels," says Kathryn Blake, director of Juniata College Museum of Art. "The performance includes aerial work above the stage, juggling, and probably some interactive surprises."
                  A hybrid of Circus, Vaudeville, Sideshow, and Burlesque styles, the group was founded in 1995 and has since performed at colleges, theaters, clubs and festivals. Previous performance venues include Burning Man, Bonnaroo and the Glastonbury Festival.
To learn more about the Bindlestiff Family Cirkus or other Juniata Presents events, visit: www.juniatapresents.com. For tickets and information about the Juniata Presents series, please call (814) 641-JTIX (5849). General admissions tickets for single performances are $20, except where otherwise noted. Single-show tickets for seniors over age 65 and children age 18 and under are $12. Juniata College students are admitted free with a student ID.
                  --Written by Taylor Smallwood '19-- 
Contact April Feagley at feaglea@juniata.edu or (814) 641-3131 for more information.