Alumni Advocates to be Recognized, Share Their Stories
(Posted September 29, 2017)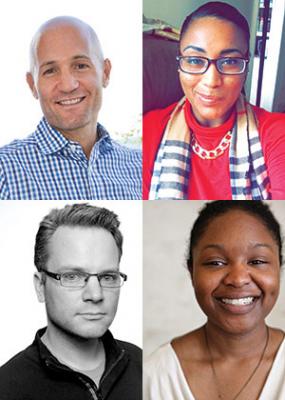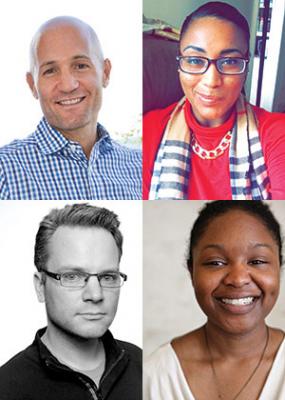 Huntingdon, Pa. – Juniata College will be welcoming back four alumni committed to outstanding service and advocacy in the fields of diversity and inclusion. These alumni include Michelle Schoonmaker, a graduate of the class of 2006; Chad Herzog, a graduate of the class of 1999; Johnniersi "JoJo" Harris, a graduate of the class of 2010; and Matthew DiLauri, a graduate of the class of 1997. Each will be receive an Award of Recognition from the Office of Diversity and Inclusion and share their stories of service and action.
Michelle Schoonmaker graduated from Juniata in 2006 with a degree in human behavior and language. At Juniata, she served on the Oller Crew as well as the Academic Support, Residential Life and the Dean's Office teams. She went on to pursue a master's degree in counseling psychology at the University of Baltimore and became a Licensed Clinical Professional Counselor. She currently resides in the Baltimore area, where she provides therapeutic services at her private practice and at a treatment foster care program. Schoonmaker is also a political activist, and is involved in professional organizations such as Licensed Clinical Professional Counselors of Maryland, Maryland Counseling Association, and Delta Sigma Theta Sorority, Incorporated.
Chad Herzog earned a degree in arts administration and communication from Juniata in 1999. He then completed a Master of Fine Arts degree in interdisciplinary arts with a focus on cultural curation from Goddard College. He currently serves as the Interim Co-Executive Director and Artistic Director of the International Festival of Arts & Ideas in New Haven, Conn.
Johnniersi "JoJo" Harris graduated Juniata in 2010 with a degree in politics and communications. She was the recipient of the Audre Lorde award, which "honors a Juniata student who actively fosters awareness and appreciation of diversity on campus and/or the surrounding communities." After graduating from Juniata, she pursued a master's degree in public administration at John Jay College, and currently works as a volunteer coordinator at Reading Partners Literature Intervention, a non-profit in New York, N.Y.
Matthew DiLauri studied communication at Juniata, graduating in 1997. Hi Juniata education led him to a career in television. He has worked on shows that include: "Saturday Night Live;" "Today;" and "Dateline." He went on to work with the New York Foundation for Senior Citizens, and an organization where he consulted for other non-profit organizations. DiLauri volunteered for, managed and started various organizations that work towards helping improve the community. DiLauri is currently serving as mayor of Boonton, N.J.
Juniata's "Alumni Advocates Panel" is part of the Beyond Tolerance series. The series is composed of events occurring throughout the academic year that are open to all members of both the Juniata and Huntingdon communities. Each event presents an opportunity to advance Juniata's institutional goal of creating a campus community of inclusiveness from the classroom to the residence hall room to the conference room. For more information on "Alumni Advocates Panel" or other Beyond Tolerance events, visit: www.juniata.edu/diversity.
Written by Joey DiGangi III '18
Contact April Feagley at feaglea@juniata.edu or (814) 641-3131 for more information.