Sounds from Down Under: Juniata College to Host Didgeridoo Performers
(Posted January 30, 2018)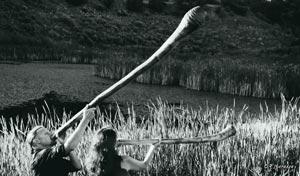 Courtesy: Didge Evolution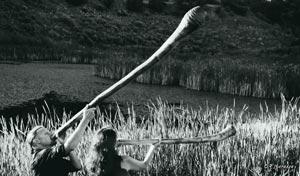 Courtesy: Didge Evolution
Huntingdon, Pa. – On Feb. 16, Juniata College will host Didge Evolution, a musical performance created by two masters of the didgeridoo, a musical instrument originally used by Australian Aborigines. The event will take place at 7:30 p.m. in Alumni Hall, Brumbaugh Academic Center, and is free and open to the public.
"Music is a naturally occurring and very popular shared activity among virtually all nations and cultures," says Jim Latten, professor of music and coordinator of the event. "We try to present as many opportunities for our campus and regional communities to experience as many different types of musicmaking as possible. When the advertisement for Didge Evolution came across my desk, I could see that bringing them to our campus would be an eye-opening experience for many."
Performers Rob Thomas and Tanya Gerard travel around the U.S. to take their audiences on an exploration to the Australian Outback through coastal rainforests and beyond using the didgeridoo to create modern-style music with fast-paced rhythms and organic sound effects. The instrument has been used for over 1,500 years by native people.
Didge Evolution offers an interactive performance wherein music is enhanced with a vivid multimedia display. Audience members also can participate in a question and answer session following the show.
Gerard grew up in Australia, and the two have been playing and making didges for more than 20 years. The duo performs year-round at schools, colleges, theaters, festivals and other venues. Additionally, they have recorded several CDs and produced music for various films, including the IMAX movie titled Sacred Planet.
"Rob and Tanya were excellent performers and educators," says Dr. Keith Dippre, the music department chair at Methodist University in Fayetteville, N.C. "They clearly love what they do and know a great deal about Aboriginal culture. What struck me is how versatile and comfortable they were with all age groups, skill levels and backgrounds."
As well as performing, the didgeridoo duo also carries out a K-12 program called Didgeridoo Down Under, which uses high-energy music to teach lessons relating to comedy, character building, anti-bullying and environmentalism. They have also taught beginners how to play the didgeridoo.
To learn more about the musical project, visit http://www.didgedownunder.com/colleges-2 or attend the performance on Feb. 16, 2018.
--Written by Taylor Smallwood '19
Contact April Feagley at feaglea@juniata.edu or (814) 641-3131 for more information.