Dreaming of the Future: The 2018 Bailey Oratorical
(Posted February 8, 2018)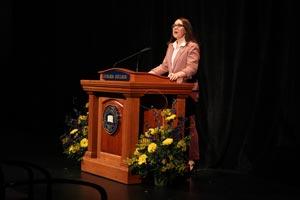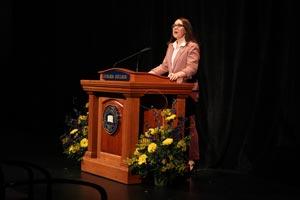 Huntingdon, Pa. – On Feb. 27, Juniata College's annual Bailey Oratorical speech competition will continue its tradition of drawing thoughtful and poignant discourse from its students. This year, students' speeches will answer the question "What is your dream for the future and why?" The competition begins at 7:30 p.m. in the Suzanne von Liebig Theatre, Halbritter Center for the Performing Arts. The event is free and open to the public.
More than 100 years old, the Bailey Oratorical encourages students from all areas of study to present 6-8 minute persuasive speeches on a topic that changes annually. This year's prompt was inspired by author, leadership guru and entrepreneur Simon Sinek's latest book, in which Sinek argues that "We have to dream. How else will we make a future that does not yet exist?"
Students first sign up for preliminary rounds of the competition, which take place on Feb. 17. For this first round, four Juniata alumni will return to campus to act as judges. Shalen Perehinec, Bryan Aungst and Hailey Schneider will have the responsibility of choosing the seven finalists of the competition.
Students finalists who advance to the final round are coached by faculty mentors to polish content and deliver their speech in preparation for the final round of the competition.
Judges for the final competition include Robert McMinn, a 1979 alumnus of Juniata and former Trustee of the College, Elise Mihranian, a 2014 alumna of the College and member of the Alumni Council, and David Wessels, the Mayor of Huntingdon. This is the first year that the Huntingdon mayor will serve on the panel of judges.
The competition, which is streamed live on Juniata's YouTube page, features prizes of $1,000, $500, and $300 for the top three speeches. In addition, the first place winner will have their name inscribed on antique cup alongside previous Bailey Oratorical winners. Audience members are encouraged to participate in a text-to-vote poll which People's ChoiceAaward.
The original Bailey Oratorical Award was established in 1910 by Letitia Fisher Bailey and the Honorable Thomas F. Bailey, who served as president judge of Huntingdon County from 1916 to 1936. The contest is named in honor of John M. Bailey, the father of Thomas Bailey, and a former Huntingdon County president judge.
The oratorical contest has a long tradition at Juniata College, as students from all areas of study can compete for the monetary prize. The original prize for the contest was $15 and $25. An enhanced endowment contribution by Judge Bailey's son-in-law Colonel Sedgley Thornbury, provides the contest's prize money. In addition, the name of the winner will be permanently inscribed on an antique loving cup presented to the college by Colonel Thornbury's son, Thomas Bailey Thornbury.
--Written by Savannah Parson '18 
Contact April Feagley at feaglea@juniata.edu or (814) 641-3131 for more information.