Passionate About Compassion: Sophomore Alex Jones Wins Juniata's Bailey Oratorical
(Posted February 28, 2018)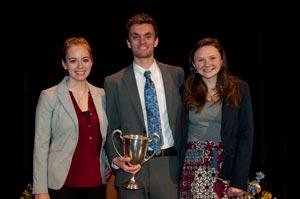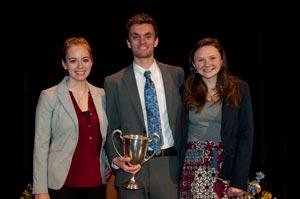 Huntingdon, Pa. – On Feb. 27, 2018, Alex Jones, a sophomore who is designing his own Program of Emphasis in leadership and social enterprise, earned first place in Juniata College's 108th Bailey Oratorical speech competition, a tradition that draws thoughtful and poignant discourse from its students. Jones's speech, titled "From I and Me to Us and We," emphasized compassionate leadership, business and citizenship.
"Compassionate citizenship goes beyond kindness—it's not just being nice, but considering the experiences and struggles others may face and expressing empathy when these circumstances become present," Jones said in his speech. "I am not perfect at this compassion thing. I do my best to live up to its ideals every day. We all may have faced trials where empathy could have made a difference in our situations."
Jones drew inspiration for his speech from last year's Bailey competitors: Nitya Chagti, a junior who argued that "we should approach others with a genuine curiosity for their experiences," and Xavier Cachon, a 2017 graduate who spoke about the importance of "emphasizing individuals' similarities over labels."
"Xavier was the inspiration for me to compete in the Oratorical," Jones says. "I want to share this honor with him, and honor Juniata as well. Since I've come to Juniata, I've discovered what I want to do and what I'm truly passionate about."
Catherine Lanigan, a sophomore studying communication, marketing and women and gender studies, earned second place and won the People's Choice Award. Sarah Ullom-Minnich, a senior studying conflict dynamics and transformation, was awarded third place. Other contestants included Vy Mai, a sophomore studying human development; Nate Matthews, a junior studying information technology; Marie-Claire Sei, a senior studying international studies with French; and Ben Martin, a senior studying environmental science.
More than 100 years old, the Bailey Oratorical encourages students from all areas of study to present 6-8 minute persuasive speeches on a topic that changes annually. This year's prompt was inspired by author, leadership guru and entrepreneur Simon Sinek's latest book in which Sinek argues that "We have to dream. How else will we make a future that does not yet exist?"
Judges for the final competition included Robert McMinn, a 1979 alumnus of Juniata and former Trustee of the College, Elise Mihranian, a 2014 alumna of the College and member of the Alumni Council, and David Wessels, the Mayor of Huntingdon. This is the first year that the Huntingdon mayor will serve on the panel of judges.
The competition, which was streamed live on Juniata's YouTube page, features prizes of $1,000, $500 and $300 for the top three speeches. In addition, the first-place winner will have their name inscribed on an antique cup alongside previous Bailey Oratorical winners. Audience members are encouraged to participate in a text-to-vote poll which People's Choice Award.
The original Bailey Oratorical Award was established in 1910 by Letitia Fisher Bailey and the Honorable Thomas F. Bailey, who served as president judge of Huntingdon County from 1916 to 1936. The contest is named in honor of John M. Bailey, the father of Thomas Bailey, and a former Huntingdon County president judge.
The oratorical contest has a long tradition at Juniata College, as students from all areas of study can compete for the monetary prize. The original prizes for the contest were $15 and $25. An enhanced endowment contribution by Judge Bailey's son-in-law, Colonel Sedgley Thornbury, provides the contest's prize money. In addition, the name of the winner will be permanently inscribed on an antique-loving cup presented to the College by Colonel Thornbury's son, Thomas Bailey Thornbury.
Contact April Feagley at feaglea@juniata.edu or (814) 641-3131 for more information.