Civil Rights Film to Premiere at Juniata College
(Posted March 6, 2018)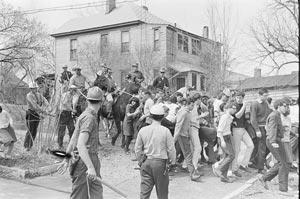 Courtesy: Glen Pearcy Collection, Library of Congress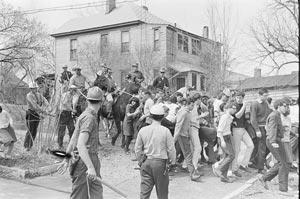 Courtesy: Glen Pearcy Collection, Library of Congress
Huntingdon, Pa. – On March 8, 2018 at noon, a three-dimensional documentary about civil rights, The Second Front: Montgomery, Alabama, March 1965, will premiere on a Rembrandt3D television at the Juniata College Museum of Art. No glasses are required for this 11-minute film, which was produced and directed by Ken Love. After its debut, the presentation will continue to play at Juniata through April 5.
On the same day of the premiere, at 8 p.m., Love, Cy Merriwether deVries, associate professor of sociology, and James Tuten, professor of history will hold a talk-back session related to the film and its themes. This latter session will take place in Alumni Hall, Brumbaugh Academic Center, and will feature a showing of Love's previous work, I Fight With my Camera. Both of these events are free and open to the public.
Among the persons featured in historical photos and interviews in The Second Front are Juniata alumni Harriet Richardson Michel, Charles Lytle, Janet Kauffman and Pam Clemson, as well as former Juniata artist-in-residence Galway Kinnell. Together with three members of the Huntingdon clergy and a group of Juniata students, they traveled to Montgomery in March 1965. 
The group traveled to Alabama in reaction to civil rights activism at the Edmund Pettus Bridge. The contingent never made it to Selma, which became overwhelmed with volunteers. So, they were redirected to the "second front" in Montgomery where they marched daily. After violence erupted Michel, Kinnell and Clemson were featured in LIFE magazine. 
More recent interviews with Clemson and Michel took place on Juniata's campus during a 2005 special reunion of faculty and students who went to Alabama in 1965. For this reason, coupled with the trio's historical significance to the Juniata community, Love felt the documentary should premiere here at the College.
"This is a part of Juniata and the Huntingdon community's history," says Tuten. "In the 12 years since that reunion, Kinnell and others have passed away. So, preserving that history is incumbent on the present. Making documentary films where we can see, hear and feel the living, breathing persons has to be done now." 
Tuten points out that the auto stereoscopic Rembrandt 3D technology utilized in creating this production presents new opportunities for keeping our history alive. Because of this state of the art approach, The Heinz Endowments supported Love's production of the film.
Those who attend the debut activities can also take in I Fight With my Camera, a 30-minute documentary about the photographer Charles Moore who documented many iconic moments of the movement in Alabama. This film also premiered at Juniata several years ago. Moore also took some of the photos of events at the second front, including the one of Michel and Kinnell that appeared in LIFE magazine.
To view the documentary after its debut, visit the Juniata College Museum of Art, where it will continue to play through April 5.
"The preservation of this story endures," Tuten concludes. "We need to keep it alive."
Contact April Feagley at feaglea@juniata.edu or (814) 641-3131 for more information.