A Tour de Huntingdon: Eastern Collegiate Cycling Conference to Include Local Races
(Posted March 12, 2018)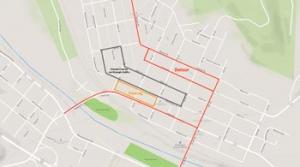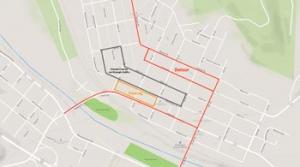 Huntingdon, Pa. – On Sat., April 7, 2018, the Juniata College Cycling Association will host the Eastern Collegiate Cycling Conference. From 8 to 9 a.m., cyclists will be doing team time trial races on Cold Springs Road starting and finishing at the soccer field parking lots of Juniata College at Winton Hill with a single U-turn located near the Stone Creek Valley Lions Club. From 9 a.m. to 7 p.m., riders will race through downtown Huntingdon on Washington and Mifflin streets from 5th street through 9th street.
The conference, which will draw approximately 300 participants, is free and open to public spectators.
Sanctioned by USA Cycling, an Olympic organization not affiliated with the NCAA, the event will feature amateur and collegiate cyclists. Racers are ranked individually, but team points are also kept to foster camaraderie. Prior to races, collegiate riders are ranked in grades A through E for both men and women (A being the highest level of cycling). Four Juniata racers compete at the Grade A level: Caleb Parnell, Bryce Lerew, Joey Schnaubelt and Nate Rickets. Juniata Cycling has five seniors graduating this spring.  
Parnell, a senior from Hollidaysburg, Pa., who serves as president of Juniata's Cycling Association, and ?Joseph Schnaubelt, a senior from Altoona, Pa., who serves as the Association's vice president, have worked with conference directors since last year to make the race a reality.
Drawing inspiration from races they've competed in at Shippensburg University, the College of William and Mary, University of Virginia, Brown University, West Point Academy and other universities, Parnell and Schnaubelt organized the upcoming bicycle road race in and around the Borough of Huntingdon. They partnered with local leaders at Huntingdon Borough, the Huntingdon Police Department, the Raystown Mountain Biking Association and the Huntingdon County Visitors Bureau to ensure the race is a success.
"Most races happen on college campuses or in industrial parks," Parnell says. "Ours is downtown, in the heart of our community. We want to create an opportunity for people to stimulate shops and buy food downtown. There's sometimes a disconnect between students and downtown and we want to merge that, while advocating for a healthy lifestyle."
Much of Parnell's work, like his partnership with local township officials, has been to ensure the safety of riders and local citizens during the day of the race. While the downtown cycling circuit will be cut off from traffic, the time trials scheduled to take place on Cold Springs Road will occur while the road is open, which is the usual method for holding that portion of the conference, Parnell says.  Residents along Cold Springs Road in Huntingdon are advised to be extra cautious of bicycle riders and traffic on the Saturday morning of the race, as activities occur.
"Please be safe and vigilant," Parnell urges. "There is a huge mountain biking crowd here in the Raystown region, but there are so many great roads. It's a prime location for road cycling, too. And we want to raise awareness for that as well."
Parnell adds that, while the team has been cycling on Huntingdon's roads, he's experienced nothing but kindness. He and his teammates hope that local folks will pay that kindness forward by working as volunteers on the day of the race.
To volunteer, sign up at tinyurl.com/JuniataRace2018.
Started in 2013, the Juniata College Cycling Association will continue from this race to compete in collegiate national championships in Grand Junction, Colo., during the first week of May. They are supported by Juniata through the College's student engagement and campus activities office, but also note that they are supported by Standing Stone Coffee Company and Rothrock Outfitters, whom they cite as critical to the success of cycling in the Raystown Lake Region.
Other sponsors include: CrossRoads Physical Therapy, alumnus Dr. Bert Altmanshofer, GU energy products, Cutaway USA, Nittany Mountain Works and Julbo eyewear.
Contact April Feagley at feaglea@juniata.edu or (814) 641-3131 for more information.