All Set: Juniata College Seniors to Present Capstone Theatre Works
(Posted April 13, 2018)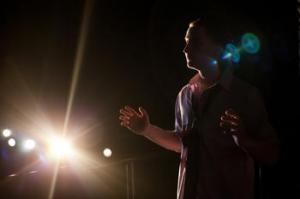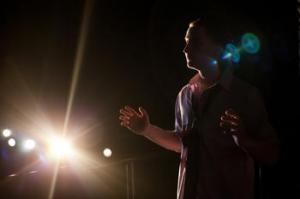 Huntingdon, Pa. – Four seniors studying theatre at Juniata College are ready to present their annual capstones projects. Debuting on April 18 and 19 at 7:30 p.m., the community is welcome to attend this ticketed event where seniors perform their own creations. The performances will take place in the Suzanne von Liebig Theatre in the Halbritter Center for the Performing Arts.
Capstone presentations were created to give students a chance to present not only a culmination of everything they've learned at Juniata, but to give them the opportunity to create something they can take along with them. The show consists of four presentations.
Lewis Boob has written and will perform "9 to 5," a play about a college graduate who starts his first day of work at his new job, where he makes new friends, deals with a tough boss and overcomes his personal struggles to discover who he truly is and what he wants in life. Tzipi Crandell will present her work, "Too Many Voices," which hopes to answer the question, "How far can one woman go?" through an original cabaret about growing up, embracing your flaws and learning to love yourself. Christine Reilly will perform "No Strings on Me," the story of a marionette puppet who's been painted with a smile, and is excited to be close to so many humans (the audience). Lastly, Kaitlin Wyatt will present a talk about her experiences as a stage manager and explain the unseen side of theatre.
The first three presenters wrote, researched, cast and will act and direct their shows. They agree that while other schools have senior showcases, Juniata's capstones are different.
"Because it's Juniata, we have more doors open to us," Reilly says. Crandell added, "I've been able to take control of my work by creating an independent study every semester, which has prepared me for this show."
The presentations, which are open to the community, require a ticket, costing $20 for general admission. Tickets for seniors and children are $12. Entrance is free for Juniata students. Tickets are available for purchase at juniata.edu/theater.
--Written by Kayla Borden '18—
Contact April Feagley at feaglea@juniata.edu or (814) 641-3131 for more information.