Juniata to Host Annual Liberal Arts Symposium
(Posted April 16, 2018)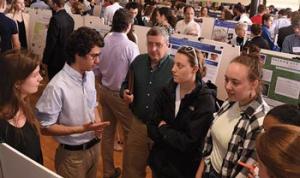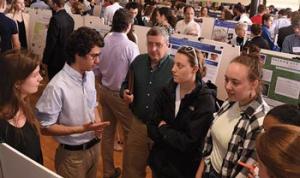 Huntingdon, Pa. – On April 19, Juniata College will host its annual Liberal Arts Symposium (LAS). Established in 2006, LAS is a daylong celebration of undergraduate research and creative inquiry. The event provides a forum for students from different areas of study to demonstrate what they are working on to the rest of the College.
Research poster presentations will be located upstairs in Ellis Hall, von Liebig Center for Science, Brumbaugh Academic Center, and Good Hall beginning at 9 a.m. Lectures and group presentations will be held between 9 a.m. and 3 p.m.
Topics cover the full range of academics at the College, and include work for publication in national journals alongside senior theses and independent studies.
 "The sense of community and excitement is palpable," says Matthew Beaky, director of undergraduate research and associate professor of physics. "Not many schools value student research, scholarship, and creativity enough to cancel classes for a whole day."
At 11 a.m. in Alumni Hall, Brumbaugh Academic Center, guest speaker Meredith Goldsmith, a professor at Ursinus College in Collegeville, Pa., will present a talk on digital humanities and Edith Warton.
Additional events for this year's LAS include the Multicultural Storyfest, a celebration of the diversity of cultures of Juniata students, which will be held in Rosenberger Auditorium, Halbritter Center for the Performing Arts, from 1:30 p.m. to 3 p.m.
Honors Music Recitals begin in Stone Church of the Brethren at 4 p.m.
The College's art department will also host a senior capstone exhibition at the Juniata College Museum of Art (JCMA); its opening reception will be held from 5 p.m. to 6:30 p.m.
To view additional information and the full schedule of poster and presentation times, please visit juniatalas.info.
--Written by Zachary Hesse '18--
Contact April Feagley at feaglea@juniata.edu or (814) 641-3131 for more information.