Campus Holds First-ever TEDxJuniataCollege
(Posted April 24, 2018)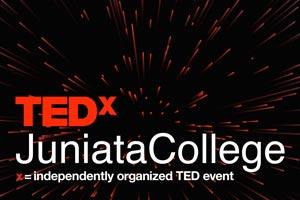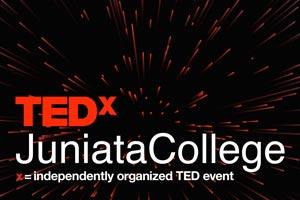 Huntingdon, Pa. – On Sunday, April 29, Juniata College will host its first ever independently organized TEDx event. The event will run from 2 to 6 p.m. in the Suzanne von Liebig Theatre, Halbritter Center for the Performing Arts, and is open to 30 community members at the price of $25 per ticket. The theme of TEDxJuniataCollege this year is "Questioning the Impossible."
TEDx is a program designed to help communities create conversation through a TED-like experience. According to the TEDx website, "At TEDx events, a screening of TED Talks videos—or a combination of live presenters and TED Talks videos—sparks deep conversation and connections at the local level. TEDx events are planned and coordinated independently, under a free license granted by TED."
TEDxJuniataCollege will be comprised of eight speakers: Jay Hosler, David K Goodman, '74 professor of biology and chair of the College's biology department; Rebecca Weldon, assistant professor of psychology; Daniel Komar, a senior at Juniata; Skukura Woods, assistant director in the College's Office of Diversity and Inclusion; David Hsiung, Dr. Charles R. and Shirley A. Knox professors of history; Polly Walker, director of Baker Institute for Peace and Conflict Studies; Elizabeth Evans Baker, Professor of Peace and Conflict Studies; Cynthia Merriwether-DeVries, associate professor of sociology; and Nick Miller, a graduate of the University of Vermont in Burlington, Vermont.
The speakers were selected by a curation team of students whose goal was to cover a wide variety of topics and disciplines.
"We wanted to build a forum where ideas could be exchanged freely and be supported by extensive research," says Kien Le, a 2017 alumnus of Juniata who helped organize the event.
Tickets are available on a first-come, first-served basis and can be purchased at http://tedxjuniatacollege.com/buy-tickets/. Each person may only purchase one ticket to the event. The check-in process will open at 1:15 p.m. on the day of the event and attendees must bring their I.D. to enter.
If arriving late, attendees will be asked to wait to enter until the presenting speaker is finished. Complimentary refreshments will be served during breaks.
The event will be livestreamed for those who are not able to reserve a ticket. To learn more about the event, please visit http://tedxjuniatacollege.com/.
About TEDx, x = independently organized event
In the spirit of ideas worth spreading, TEDx is a program of local, self-organized events that bring people together to share a TED-like experience. At a TEDx event, TED Talks video and live speakers combine to spark deep discussion and connection. These local, self-organized events are branded TEDx, where x = independently organized TED event. The TED Conference provides general guidance for the TEDx program, but individual TEDx events are self-organized. (Subject to certain rules and regulations.)
About TED
TED is a nonprofit organization devoted to Ideas Worth Spreading, usually in the form of short, powerful talks (18 minutes or fewer) delivered by today's leading thinkers and doers. Many of these talks are given at TED's annual conference in Vancouver, British Columbia, and made available, free, on TED.com. TED speakers have included Bill Gates, Jane Goodall, Elizabeth Gilbert, Sir Richard Branson, Nandan Nilekani, Philippe Starck, Ngozi Okonjo-Iweala, Sal Khan and Daniel Kahneman.
TED's open and free initiatives for spreading ideas include TED.com, where new TED Talk videos are posted daily; the Open Translation Project, which provides subtitles and interactive transcripts as well as translations from thousands of volunteers worldwide; the educational initiative TED-Ed; the annual million-dollar TED Prize, which funds exceptional individuals with a "wish," or idea, to create change in the world; TEDx, which provides licenses to thousands of individuals and groups who host local, self-organized TED-style events around the world; and the TED Fellows program, which selects innovators from around the globe to amplify the impact of their remarkable projects and activities.
Follow TED on Twitter at http://twitter.com/TEDTalks, on Facebook at http://www.facebook.com/TED or Instagram at https://instagram.com/ted.
--Written by Taylor Smallwood '19-- 
Contact April Feagley at feaglea@juniata.edu or (814) 641-3131 for more information.