Two Juniata Students Awarded Fulbright Scholarships to Teach in Colombia
(Posted May 1, 2018)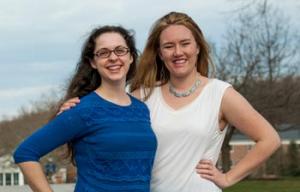 Photo: Veronica Cosmopolis '20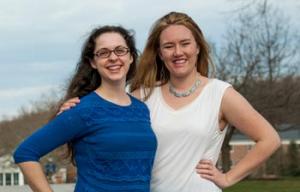 Photo: Veronica Cosmopolis '20
Huntingdon, Pa.— Two Juniata College seniors—Anna Oldenbrook  and Emily Parker—have each received a Fulbright English Teaching Award to live and work in Colombia.
"As the Fulbright program goes through its decision making process, one of the things they are trying to be mindful of is different kinds of representation in its pool, and we weren't sure they'd be open to two students from the same college being successful in applying to the same country," says Jim Tuten, professor of history and chair of Juniata's student fellowships committee. "We could've made a more calculated move, and only recommended one, but both students were committed to applying to Colombia. So, we went ahead with both applications."
"It is the student's life and career, so their interests, passions and curiosities have to take them where they will," Tuten adds. "They're much more likely to create a compelling argument for a country if it is the country they care about." 
In the end, both Oldenbrook, who studies Spanish and secondary education, and Parker, who studies Spanish and Hispanic cultures with a secondary emphasis in religious studies, were successful.
Both Fulbright scholars will teach at a Columbian university, yet to be determined, and each looks forward to their roles as teachers as well as ambassadors for the United States.
"I do think of myself as a cultural ambassador for the United States," Oldenbrook says. "I'm there as a regular human being who happens to be an American, who will start to change perspectives, one individual at a time. I talk about wanting to change the world, but what I really want to do is change people so they can change the world."
Both are already planning possible projects.
"I've been thinking of doing a Black Lives Matter themed lesson," Parker says. "I could use things like tweets, since small amounts of texts are more digestible, and that could be a fun, engaging way of looking at more modern American issues. I want to give people a more complex understanding of a place, because no group of people is entirely good or bad."
Fulbright English Teaching Assistant (ETA) programs place individuals in classrooms abroad to provide assistance to local English teachers. The age and academic level of the students varies by country, ranging from kindergarten to university level. Applicants for ETA programs can apply to only one country.
The Fulbright U.S. Student Program is the largest U.S. exchange program offering opportunities for students and young professionals to undertake international graduate study, advanced research, university teaching and primary and secondary school teaching worldwide. This year, approximately 1,900 grants were awarded in all fields of study. The programs operate in more than 140 countries worldwide.
The primary source of funding for the Fulbright Program is an annual appropriation by the U.S. Congress to the U.S. Department of State's Bureau of Educational and Cultural Affairs (ECA). Participating governments and host institutions together with corporations and foundations in foreign countries and in the United States also provide direct and indirect support. ECA administers the Fulbright Program under policy guidelines established by the J. William Fulbright Foreign Scholarship Board (FFSB) and in cooperation with binational Fulbright Commissions and the Public Affairs Sections of U.S. embassies abroad.
Oldenbrook graduated from the Jefferson County Open School in Denver, Colorado, and Parker is a graduate of North Hunderton High School in New Jersey.
--Written by Nathan Woods '19--
Contact April Feagley at feaglea@juniata.edu or (814) 641-3131 for more information.