Three Juniata College Faculty Receive Teaching and Service Awards
(Posted May 9, 2018)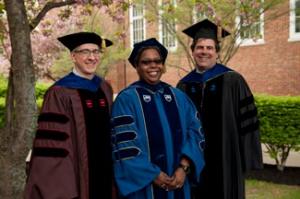 Photo: Veronica Cosmopolis '20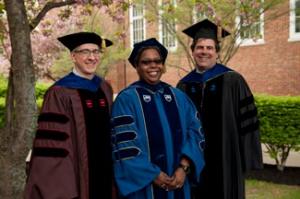 Photo: Veronica Cosmopolis '20
Huntingdon, Pa. -- Three Juniata College faculty members were honored Tuesday, May 8, with distinguished teaching and service awards during the College's Spring Awards Convocation in Rosenberger Auditorium in the Halbritter Center for the Performing Arts, held Tuesday at 3 p.m. Honored for their work were John Bukowski, Professor of Mathematics; Daniel Dries, assistant professor of chemistry; and Cynthia Merriwether-de Vries, associate professor of sociology.
The convocation address was given by Jerry Kruse, Dale Professor in Information Technology, Computer Science and Mathematics, and assistant provost, and William Thomas, professor of information technology.
Bukowski, a Huntingdon, Pa. resident, was honored with the 51st annual Beachley Award for Distinguished Teaching, and Cy Merriwether-de Vries, a State College, Pa. resident, was named the 29th recipient of the Beachley Award for Distinguished Academic Service. Daniel Dries, a Huntingdon, Pa. resident, received the Henry and Joan Gibbel Award for Distinguished Teaching, an award reserved for faculty members with fewer than six years of service.
Nominations for the awards are received from students, faculty, administrative personnel, alumni, and trustees. The college president, the provost, the student government president, and the three most recent recipients of the award make the final selections.
"Recognizing our Beachley and Gibbel Award winners is an annual tradition not only of great importance but of great joy," says Lauren Bowen, provost of Juniata College. "The awards celebrate our faculty's commitment to helping students learn and stretch their ambitions and to the service they provide that makes Juniata such a fertile learning environment."
The last three Beachley Distinguished Teaching Award recipients were William Thomas, professor of information technology (2017); Jay Hosler, professor of biology (2016); and Benjamin Sunderland, professor of mathematics (2015). The first was presented in 1989 to the late Mary Ruth Linton, a Juniata music professor. Last year's Beachley academic service award recipient was Jerry Kruse, Dale Professor in Information Technology, Computer Science and Mathematics. The recipient of the 2017 Gibbel Award for Distinguished Teaching was Amy Frazier-Yoder, associate professor of Spanish.
John Bukowski joined the Juniata faculty in 1997 as an assistant professor of mathematics.
"Dr. Bukowski is foundational to the excellence of mathematics at Juniata," says James A. Troha, president of Juniata College. "He is an unassuming and very effective teacher whose insights and practices also inform a strong cadre of colleagues in his department."
Bukowski earned his B.S. with University Honors in both mathematics and physics from Carnegie Mellon University and went on to earni his Ph.D. and Sc.M. in applied mathematics from Brown University, where he received honorable mention for the President's Award for Excellence in Teaching. In 2003, Bukowski was named Juniata Faculty Member of the Year at the annual May Day Breakfast.
Bukowski is very active in the Mathematical Association of America (MAA). He currently serves as the historian of the Allegheny Mountain Section of the MAA, and served previously as its Governor from 2005-08, during which time he represented the Section on the national Board of Governors. In 2014, Bukowski organized a comprehensive history of the organization. Bukowski is also a member of American Mathematical Society, and the Association for Women in Mathematics.
Bukowski researches the history of 17th and 18th century mathematics; in particular, he has studied the work of the Dutch mathematician Christiaan Huygens. In 2012, Bukowski spent a semester in-residence at the University of Leiden, Netherlands, and since 2013 has taught during the summer at ISEN in Lille, France.
In addition to being an admired teacher, Bukowski is know for his service as a musician on campus and in the Huntingdon community as a choral singer and piano accompanist for college and community events. He is married to fellow Juniata mathematics professor Cathy Stenson, whom he met in the Catholic choir at Brown. They have two young sons, David and Daniel.            
Cynthia Merriwether-de Vries began her tenure at Juniata in 2001, after having earned her Ph.D. in human development and family studies at the Pennsylvania State University. She earned a bachelor's degree and master's degree, both from Penn State in human development and family studies, in 1990 and 1994, respectively.
"While many of our faculty are valued for more than what they offer in the classroom," says Troha, "very few are held in esteem by students to the degree of Dr. Merriwether-de Vries. She is known for her distinct compassion, guidance, and advocacy for students, particularly from underrepresented populations. Cy is known by her administrative and faculty peers for her insight and actions in making the College welcoming to all who choose to pursue their education here."
At Juniata, she has taught such courses as Introduction to Sociology, Minorities, The American Family, and Social Welfare Policy and Services. Merriwether-de Vries' doctoral research focused on how African-American adolescent mothers adjust to the role of motherhood. Her research has been published in such journals as Generations and Marriage and Family Review.
In making the award, Bowen noted that Merriwether-de Vries earns recognition for her academic service due to multiple engagements over her time at Juniata, both formal and informal.
For more than a decade, Merriwether-de Vries has served as an adviser to student clubs, including Umoja, a club focused on African American culture and advocacy, and PLEXUS, a structured, peer-to-peer mentoring program for first-generation college students and students from underrepresented populations. In 2015, Merriwether-de Vries helped to co-administer Juniata's Office of Diversity and Inclusion as the college conducted a two-year search for a Dean of Institutional Equity and Inclusive Excellence. In 2001, Merriwether-de Vries worked as a research associate and mentored students at work on the Juniata College African-American Oral History Project.
Merriwether-de Vries is a member of the Pennsylvania Sociological Society and the Friends Council on Higher Education. She also is a member of the Leadership Roundtable of the Huntingdon County "Families r First" Collaborative. She volunteers for such community organizations as The American Lung Association, the Ballet Theatre of Central Pennsylvania, Centre County Special Olympics and the State College Community Theatre.
Merriwether-de Vries and is married to Paul De Vries and the couple are parents of a daughter, Jillian.
Daniel Dries came to Juniata College as an assistant professor of chemistry in 2013.
"Dr. Dries arrived with the task of not only teaching biochemistry and engaging students in research but a mandate to update and enhance the curriculum in his specialty," says Troha. "More so, however, the award recognizes Dr. Dries as an innovative and inclusive teacher, no matter what the class or subject."
Dries has led workshops for faculty on how to engage students through problem solving and hands-on learning. Additionally, Dries is an innovative proponent of inclusive pedagogy, a term that describes a student-centered approach to teaching that accounts for the breadth of students one may engage in any learning situation. The methods depend on students and professors working together to create a supportive learning environment that considers the varied backgrounds, learning styles, and abilities of all the learners involved in a class, laboratory, or other experience.
Dr. Dries earned his bachelor's degree with honors in biochemistry from the University of Delaware in 2000 and his doctorate from the University of California, San Diego in 2007. In 2007, Dries accepted a postdoctoral fellowship studying the role of the gamma-secretase complex in neurological disease in Dr. Gang Yu's lab at the University of Texas Southwestern Medical Center in Dallas, TX.
Dries is principally responsible for teaching biochemistry at Juniata and is an active devotee of problem-based learning. Dries maintains an active lab studying both the biochemistry and the physiological role of the gamma-secretase complex in the brain, research relevant to Alzheimer's as well as brain development more generally, and students gain experience in that lab environment. Dries has successfully applied for research funding from the National Institutes of Health, the National Science Foundation, and other governmental and foundation sources to support his work and that of students.
Dries also has restructured the biochemistry curriculum, organized a new chapter of the American Society of Biochemistry and Microbiology at Juniata, and has arranged for Juniata students to earn summer research positions at the University of Texas Southwestern Medical Center.
Originally from Gilbertsville, Pa., Dries and his wife Sara, a retired professional ballet dancer for City Ballet of San Diego, have one son, Julian.
Contact April Feagley at feaglea@juniata.edu or (814) 641-3131 for more information.