Juniata Ties Fulbright Record as Senior Emily Kutz is Awarded Fellowship
(Posted May 9, 2018)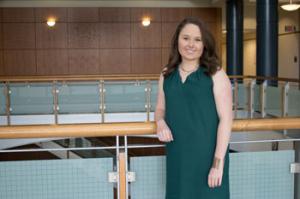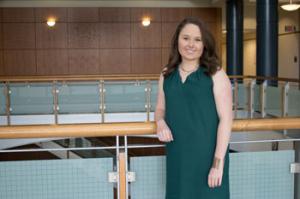 Huntingdon, Pa. –Emily Kutz, a Juniata College senior from Mechanicsburg, Pennsylvania, who is studying Spanish secondary education and early education, has earned a Fulbright Fellowship. This academic year is the fourth consecutive year at Juniata during which three students have won a Fulbright in a single year.
Through the fellowship, Kutz will receive a grant to teach English to preschool and elementary school students in Madrid, Spain, from September of 2018 to June of 2019.
"I'm looking forward to teaching English again and being back in Spain, since I studied abroad there," says Kutz.
In the future, Kutz hopes to obtain a career in teaching, specifically in bilingual education. In the past, she has completed internships teaching English in Mexico and Spain.
The Fulbright U.S. Student Program provides grants for individually-designed study or for English Teaching Assistant Programs. According to the program website, "During their grants, Fulbrighters will meet, work, live with and learn from the people of the host country, sharing daily experiences."
The Fulbright English Teaching Assistant (ETA) programs place individuals in classrooms abroad to provide assistance to local English teachers. ETAs help teach the English language while also serving as cultural ambassadors for the U.S. The age and academic level of the students varies by country, ranging from kindergarten to university level. 
Kutz was introduced to the program by James Tuten, professor of history and chair of Juniata's student fellowships committee.
"Professor Tuten guided me through the whole process," Kutz says. "I had to write two different statements for the application, and I think he read them at least 100 times."
Kutz is a member of the dance ensemble and the kick-line dance team, serves as president of the Spanish club and is director of an after-school program at the Huntingdon Community Center, where she helps tutor and plan activities for K-12 students.
Contact April Feagley at feaglea@juniata.edu or (814) 641-3131 for more information.