Juniata to Host 10th Annual Landmark Summer Research Symposium
(Posted July 25, 2018)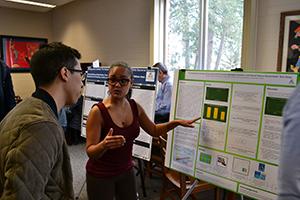 Photo: Alexandra Webb '18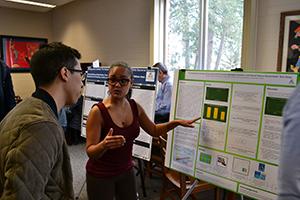 Photo: Alexandra Webb '18
Huntingdon, Pa. – The Landmark Conference, an intercollegiate athletic conference affiliated with the NCAA's Division III, holds a yearly Landmark Summer Research Symposium for students to present research projects. This year's Landmark Symposium, which will include presenters from Catholic University in Washington, D.C., and Goucher College in Baltimore, Md., to Moravian and Elizabethtown colleges, will be held at Juniata College on Thursday, July 26 from 1 to 4:30 p.m.
Megan Kutruff, from Altoona, Pa., who studies biology and secondary education at Juniata will be sharing her research at the Symposium.
"I have been working on this project for two years and being part of the research community is so fulfilling," Kutruff says.
Together with other students and her faculty sponsors, Uma Ramakrishnan, professor of environmental science and studies, and Dennis Johnson, George "Fritz" Blechchmidt '54 Professor of Environmental Science, Kutruff will be presenting research about trout movement in the Little Juniata River. Their project is funded by the National Science Foundation Education Grant.
"I really enjoy getting to learn from my research, my peers, and speakers that Juniata provides research students with," says Kutruff. "It will be an excellent experience to present all the research that we have gathered along the way at the Landmark Symposium."
The goal of the symposium is to create a way for students and faculty from Landmark institutions to come together to present their work in the fields of biology, biochemistry, chemistry, physics, mathematics, computer science, earth science, philosophy and sociology.
By the end of the symposium, 65 students will have shard their research, 18 presentations of which are to be given by Juniata students.                   
--Written by Taylor M. Smallwood '19-- 
Contact April Feagley at feaglea@juniata.edu or (814) 641-3131 for more information.