Battles That Have Long Endured: Civil War Historian to Speak at Juniata College
(Posted August 8, 2018)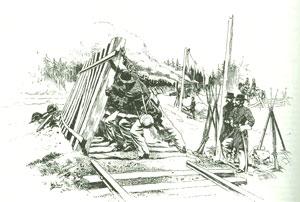 Graphic: Courtesy of Earl Hess, Ph.D.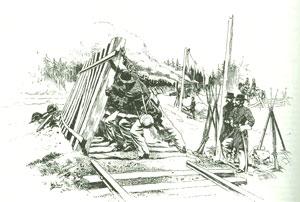 Graphic: Courtesy of Earl Hess, Ph.D.
Huntingdon, Pa. – On Thursday, Sept. 13, 2018, Juniata College will welcome Earl J. Hess, a renowned civil war historian, as a distinguished speaker. Hess's presentation, titled "Re-Evaluating Sherman's March to the Sea and His Subsequent March Through the Carolinas: Were they Successful?," begins at 7:30 p.m. in Alumni Hall, Brumbaugh Academic Center, is free and open to the public.
Once nominated for the Pulitzer Prize as well as a host of other prestigious book awards, Hess's work includes more than 20 books, 30 peer-reviewed articles and 100 book reviews. His book, Civil War Infantry Tactics: Training, Combat, and Small-Unit Effectiveness (Louisiana State University Press, 2015), won the Tom Watson Brown Book award, the most prestigious prize for scholarship on the Civil War. Hess's books have also earned him the Harwell Book Award in 2010, the Douglas Southall Freeman History Award in 2003 and his Civil War Logistics (LSU Press, 2017) won the Eugene Feit Award in Civil War Studies by the New York Military Affairs Symposium in 2017.
Many of Hess's books have been selections of the Military Book Club, the History Book Club, Book of the Month Club and the Scientific American Book Club. They have also been selected by the Library of Science, the Literary Guild and Bookburst as must-read texts.
"The Civil War and military history in general are topics appreciated by many people in our area and Professor Hess's visit to Juniata offers a great opportunity to hear one of the best scholars of this generation in person," says Jim Tuten, professor of history at Juniata.
The history of the Civil War has fascinated Hess since his youth in rural Missouri. After earning bachelor's and master's degrees in history at Southeast Missouri State, he completed a doctorate in American Studies from Purdue University in 1986. Hess has been a professor of history at Lincoln Memorial University in Harrogate, Tenn., since 1989.
In addition to being one of the recognized experts on Civil War military history, he is also an authority on and author of works on classic film musicals. 
Contact April Feagley at feaglea@juniata.edu or (814) 641-3131 for more information.