Juniata College Approves ESG Investment Fund for Endowment
(Posted August 4, 2018)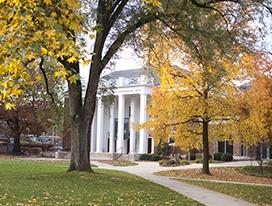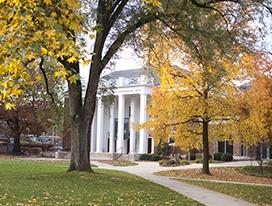 Huntingdon, Pa. —Juniata College has engaged Rockefeller Capital Management to manage a significant portion of the College's endowment assets, roughly 10 percent, specifically using socially responsible investment practices that consider environmental, social, and corporate governance (ESG) criteria in selecting assets. Rockefeller will work with Cornerstone Advisors Asset Management, LLC, the firm that serves as the overall Juniata College endowment consultant.
ESG investing is a practice that operates with the belief that individuals and organizations can choose to invest in companies with responsible environmental practices, transparent internal governance and concern for positive social outcomes while achieving competitive financial performance.
Located in Huntingdon, Pa., and known for serving generations of students for more than 140 years, Juniata College is a private liberal arts college where students engage in designing their own course of study. In addition to offering programs traditional for a nationally eminent liberal arts college, Juniata is notable for distinctive programs in peace and conflict studies and museum studies, its commitment to comprehensive international education and academic offerings in environmental science, an internationally-focused and accredited business program, and historic strengths in the biological and physical sciences.
While higher education's use of ESG investing in managing endowments is not new, it is a comparatively uncommon practice. A January 2018 report authored by Lisa Woll of U.S. SIF: The Forum for Sustainable and Responsible Investment, "Snapshot: Educational Endowments and Sustainable Investing," states that 80 of the roughly 3,500 colleges and universities in the United States, at the time of the report, were using ESG practices in managing their investment assets.
"I am pleased we are moving in this direction," says Juniata president James A. Troha. "The College has a history dating to its founding of supporting opportunity, justice and peace. Our investment practices have matched that commitment for a long time, and this visible move to make a clearer declaration of our values will make sense to our students and alumni in how it affirms our values. That we are doing so with an experienced manager underscores our commitment to these values."
Skip Cowen, President of Cornerstone Advisors Asset Management says, "ESG principles have been interwoven in the College's investment policy since we began working with them. This is just a more explicit avenue in which to express the desire of the Juniata community to embrace socially conscious investments."
Options were researched through the spring of 2018 and Rockefeller Capital Management, NY was engaged in late July 2018. Rockefeller Capital Management is an independent financial services firm offering wealthmanagement, asset management and strategic advisory services. The firm serves ultra- and high-net-worth individuals, as well as institutions such as foundations, endowments and corporations. Led by President and Chief Executive Officer Gregory J. Fleming, as of June 30, 2018, Rockefeller has approximately $17.9 billion in assets under advisement, with offices in New York, Boston and Washington, D.C.
"ESG investing simply adds a layer of consideration in how we choose to develop and safeguard our human and natural resources," says Juniata trustee Carl D. Glaeser, a 1977 alumnus and chair of the College's board-directed investment committee. "We can select plenty of investments that yield strong returns; among them, we wish to choose positive investments with returns that come with positive outcomes—not only for our environment but also for maintaining transparency in the corporate infrastructure and management while respecting social differences when employing acceptable labor practices and working condtions."
Glaeser notes that it is unusual for colleges with a student body of Juniata's size and with investments at Juniata's level to commit such substantial resources to ESG investment. "Rather than simply state a preference to a certain kind of asset management practice," Glaeser says, "the board has committed a sizable portion of our endowment, about 10 percent, and is contracting for the expertise of professionals who do this for a variety of nonprofits."
Juniata enrolls roughly 1,450 students and the College's board of trustees charters an investment committee to oversee the performance of the endowment, and that committee hires professional management consultants to ensure its financial health and longevity. The endowment supports student financial aid, resources for teaching and faculty, and many programs at the college, including such varied activities as its choir, some sports teams, the Baker Institute for Peace and Conflict Studies, visiting scholars and lecturers, and an investment fund for students to learn from while managing.  
In Pennsylvania, only five of the state's 164 colleges and universities formally have adopted ESG practices and applied them to specific allotments as part of their investment strategy: Chatham University, Dickinson College, Gettysburg College, Swarthmore College, and Villanova University. 
Contact April Feagley at feaglea@juniata.edu or (814) 641-3131 for more information.