Juniata College Leaps 20 Spots in U.S. News Ranking, Climbs in Others
(Posted September 10, 2018)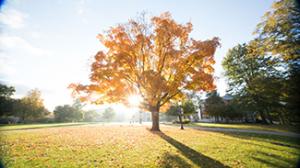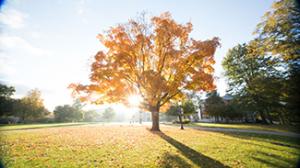 Huntingdon, Pa.—The web-based news publication U.S. News & World Report has rated Juniata College 86th in its 2018 rankings of the best liberal arts college in the nation. The spot is 20 places above Juniata's ranking of 106 in 2017.
Juniata also received a ranking of 87th by Washington Monthly magazine in its 2018 ranking, climbing 12 spots from the 2017 ranking of 99th. Money magazine placed Juniata at 289 out of 727 colleges and universities considered, a 47-space jump from its ranking last year. The 2019 Wall Street Journal/Times Higher Education (THE) college rankings posted Juniata at 200, an improvement of 9 from its 209 position in the 2018 rankings. The only ranking in which Juniata did not advance was the Forbes.com ranking, where the college held steady at 279.
 "While U.S. News remains the most influential published college ranking, we are aware that families consider several sources. Regardless of what many in higher education may think about the rankings, students and families use them and we are pleased that this year's gain across a number of rankings suggests the work we do is appreciated by various formulae," says James A. Troha, president of Juniata College. "Year after year we are included with the very best colleges in the United States, regardless of ranking method. When I consider what our faculty and staff do to create the student experience we offer, I am not surprised to be in such company."
This year's U.S. News ranking has Juniata firmly within the top 100 for the first time since 2013. The U.S. News methodology considers several factors in its evaluation, including the rates at which students persist in their progress toward earning a degree (termed "retention") and the rate at which they graduate; the ratio of faculty to students; financial resources, which includes the value of endowments per student; and their controversial "peer assessment," an index of reputation among other colleges and universities as well as the opinions of guidance counselors nationally. The assessment amounts to 20 percent of the total ranking.
For the first time, the ranking methodology did not include any consideration of "selectivity," or the number of students accepted versus denied admission. Additionally, the ranking added a social mobility measure, considering the number of PELL-grant recipients enrolled and the rate of their graduation compared to the overall rate of completion.
Juniata College was ranked at 86, along with two other liberal arts institutions, College of St. Benedict in St. Joseph, Minnesota, and Wheaton College in Norton, Massachusetts.
In this year's U.S. News rankings, directly following the colleges at 86 are Luther College, in Decorah, Iowa, ranked at 89h, followed by Gustavus Adolphus College in Saint Peter, Minnesota, New College of Florida in Sarasota, Florida, Reed College in Portland, Oregon, Southwestern University in Georgetown, Texas, and Ursinus College, in Collegeville, Pennsylvania, all ranked at 90. The five institutions ranked 81st are Cornell College, in Mount Vernon, Iowa, Earlham College in Richmond, Indiana, Muhlenberg College, in Allentown, Pennsylvania, Principia College, in Elsah, Illinois, and Virginia Military Institute in Lexington, Virginia.
According to guidelines established by the Carnegie Foundation and adopted by U.S. News, institutions that award at least 50 percent of their undergraduate degrees in liberal arts are defined as liberal arts schools.
In addition, in the U.S. News & World Report 2019 Rankings, Juniata College was named as an "A+ School for B Students" among national liberal arts colleges for the fifth year in a row.
U.S. News' "A+ Schools for B Students" rankings come from two values: the institution's performance in the last U.S. News poll and the college's average freshman retention rate.
Juniata is one of eight colleges from Pennsylvania to be included in the "A+" rankings. The others are Allegheny College, Elizabethtown College, Moravian College, Muhlenberg College, Susquehanna University, Ursinus College, and Washington and Jefferson College. Juniata is also ranked #62 among the publication's list of 109 "Best Value National Liberal Arts Colleges."
Juniata is one of only 11 liberal arts colleges in Pennsylvania to be ranked in the top 100 nationally.
Other Pennsylvania colleges in the U.S. News Top 100 are: Swarthmore College (3rd); Haverford College (11th); Bryn Mawr College (27th); Bucknell University (36th); Lafayette College (36th); Franklin & Marshall College (36th); Gettysburg College (49th); Dickinson College (51st); Allegheny College (76th); Muhlenberg College (81st); and Ursinus College (90th).
The U.S. News list is the most anticipated ranking of higher education and signals the height of what some higher education watchers call "rankings season." The U.S. News rankings appear weeks after the Forbes.com rankings, in which Juniata ranked 279 out of nearly 700 colleges ranked by the business publication.
In calculating its rankings, Forbes.com states that its methodology favors return on investment for students. Their ranking factors include post-graduate success in terms of wealth and influence (35 percent), the average debt held by graduates and the ability to pay it back (20 percent), the student experience as measured by the number of students a college retains (20 percent), the graduation rate (12.5 percent), and academic success as measured by graduate degree attainment and scholarly recognition, such as Fulbright and Goldwater Fellowships (12.5 percent).  
The Forbes.com rankings appear after those posted by Money magazine, in which Juniata placed 289 out of 727 colleges and universities considered, a 47-space jump from its ranking last year. Money magazine ranks only colleges and universities it judges not to be in financial distress and that enroll more than 500 students. This year, 727 such colleges and universities were ranked. The ranking method considered "quality of education," which includes factors such as the ratio of faculty to students, graduation rates, and the test scores and academic profile of entering students; "affordability," which reviewed net price of earning a degree, student debt, student loan repayment, and affordability for low-income students; and "outcomes," a measure including graduate and mid-career earnings, earnings adjusted for professions, social mobility, and whether graduates' jobs "make the world a better place."  
Washington Monthly's annual rankings rate schools based on "what they are doing for the country." The magazine positions itself as counter to U.S. News and what it terms as the publication's reliance on "crude and easily manipulated measures of wealth, exclusivity, and prestige to evaluate schools."
Washington Monthly ranks four-year schools (national universities, liberal arts colleges, baccalaureate colleges, and master's universities) based on their contribution to the public good in three broad categories: social mobility (recruiting and graduating low-income students), research (producing cutting-edge scholarship and Ph.D.s), and service (encouraging students to give something back to their country). 
The Wall Street Journal/Times Higher Education college ranking claims its ranking places "graduate success and student learning at its heart."
According to the ranking's site, its methodology was "developed in partnership with U.S. experts and universities" and "adopts a balanced scorecard approach." Wall Street Journal/THE uses 15 individual performance metrics representing resources (30%), student engagement and learning (20%), outcomes (40%), and environment (10%). The ranking's data sources include the THE U.S. Student Survey, and the THE Academic Reputation Survey, along with public data from IPEDs (Integrated Postsecondary Education Data System, a data collection compiled by the National Center for Education Statistics within the United States Department of Education), the federal College Scorecard, and Federal Student Aid statistics on areas including completion rates and graduate employment. The full methodology can be found on the THE's website.
None of the rankings systems are totally comprehensive; more than 4,000 colleges and universities operate in the United States and only the very best, the top 10 to 20 percent, are ranked by the majority of ranking systems. The United States is home to more than 500 private liberal arts colleges, placing Juniata among the top fifth of such institutions nationally. 
Contact April Feagley at feaglea@juniata.edu or (814) 641-3131 for more information.