Juniata College Board of Trustees Adds Four New Members
(Posted September 11, 2018)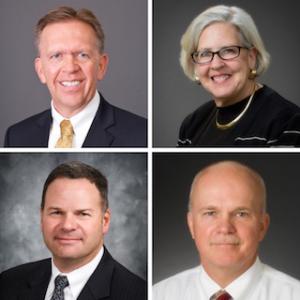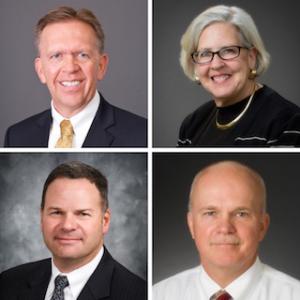 HUNTINGDON, Pa.— The Juniata College board of trustees has added four new members to begin the 2018-2019 academic year. The newly appointed trustees began their service Sept. 1, 2018 for three-year terms. The new trustees are Randall C. Deike, senior vice president for enrollment management and student services at Drexel University in Philadelphia; Sarah Young Fisher, president emeritus of RKL Wealth Management in Lancaster, serving as an alumni trustee; Daniel Sunderland, owner and president of Sun Motor Cars, Inc., in Mechanicsburg; and Fred Wulczyn, Senior Research Fellow at Chapin Hall at the University of Chicago, in Chicago, Ill.  
Randall Deike, of Philadelphia, earned a bachelor's degree in psychology from Juniata College in 1988 and has been senior vice president for enrollment management and student success at Drexel University since 2014. At Drexel, Deike oversees key aspects of the Drexel student experience from the university's first contact with prospective students through graduation. His oversight covers admissions, student life, athletics, advising, financial aid, information systems, and more. Previously, Deike was vice president for enrollment management at New York University, vice president of enrollment at Case Western Reserve University, and held several administrative roles in enrollment over 12 years at the Pennsylvania State University.
Deike earned a master's in educational psychology from Penn State in 1994 and a doctorate in educational psychology in 2003, also from Penn State. Deike started his career in higher education as an assistant to the dean of residential life at Juniata College. Deike publishes and speaks regularly on enrollment topics in national publications and at conferences. He has served the National Association of College Admission Counseling Commission on the use of Standardized Tests in Undergraduate Admission, the National Council for Enrollment Planning and Policy, the World Leading Schools Association, and the College Board Task Force on Admission in the 21st Century. Deike's family includes five children.
Sarah Young Fisher, of Lancaster, PA, is President Emeritus of RKL Wealth Management. Fisher has worked in financial services with a wide range of clients, including individuals, trusts, estates, charitable organizations and corporations. Before joining RKL Wealth Management in 2005, Fisher was President of Fisher Advisers, Inc. for ten years. She previously served three years as a trust officer with the Hershey Trust Company, and 13 years as a vice president and senior trust officer with Fulton Bank. She began her career as a paralegal in the York County District Attorney's office. Fisher also is the author of four books relating to individual financial advice.
Fisher earned bachelor's degrees in math and biology from Juniata in 1975, graduating cum laude. She also holds a master's in financial services from American College. She holds numerous certificates for professional financial advising. Her volunteer service includes roles with the Lancaster County Foundation Investment Committee, the Hospice of Lancaster County Planned Giving Council, and serving as chair of the Lancaster YMCA Foundation Board. Currently she is a board member with the PA Dutch Council of the Boy Scouts of America, and chair of the board's investment committee. Fisher is also the mother of two children.
Daniel Sunderland is owner and operator of the Sun Motor Cars Automotive Group, headquartered in Mechanicsburg. Sunderland sits on the Mercedes-Benz National Dealer Board and the M&T Bank Advisory Board. Sunderland is an active philanthropist with a variety of local and national charities. Sunderland is also an active volunteer in his community. The most recent project with which he was involved was to help raise money for the Bethesda Mission Community Center capital project in Harrisburg.
Sunderland earned a bachelor's degree in corporate accounting and finance from Juniata College in 1988. He started his career at Meridian Bank as a commercial lender before taking the position as president of Sun Motors in 1991. He is the father of three children.
A 1975 graduate of Juniata who earned a bachelor's degree in psychology and sociology, Fred (Friedhelm) Wulczyn is a senior research fellow at Chapin Hall at the University of Chicago. He received the James E. Flynn Prize for Research in 2011 and has been recipient of the National Association of Public Child Welfare Administrators' (NAPCWA) Peter Forsythe Award for leadership in public child welfare. In 2014, he was elected into the American Academy of Social Work and Social Welfare. He is lead author of Beyond Common Sense: Child Welfare, Child Well-Being, and the Evidence for Policy Reform (Aldine, 2005) and coeditor of Child Protection: Using Research to Improve Policy and Practice (Brookings 2007).
Prior to returning to the University of Chicago, Wulczyn held positions with the New York State Department of Social Services and Columbia University. Wulczyn earned a Ph.D. from the University of Chicago's School of Social Service Administration. He was awarded Juniata's distinguished Alumni Award for his contributions on behalf of children and families. He earned a M.S.W. from Marywood University, which honored him with its distinguished Alumni Award as well as an honorary doctorate, honoris causa. He is the father of three daughters. 
Contact April Feagley at feaglea@juniata.edu or (814) 641-3131 for more information.