Juniata College to Build Varsity Esports Team
(Posted October 2, 2018)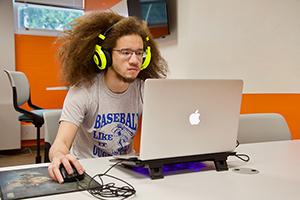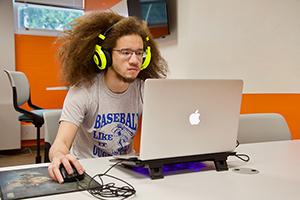 Huntingdon, Pa.—Juniata College has formed a competitive esports team at the club level to compete in the 2018-2019 academic year. The team anticipates participation in a Landmark Conference esports competition to be held within the academic year, for which plans are still in process. When it occurs, the tournament would represent the first conference-wide esports tournament for a Division III-level athletic conference in the United States.
Juniata also has launched a national search for a coach to lead and recruit a varsity level program starting with the 2019-2020 academic year and will have scholarship funding available for recruiting competitive players.  
Esports refers to interactive, competitive video gaming, through multiplayer formats on web platforms and often with professional competitors. While competitive video gaming has existed essentially since the advent of video gaming technology, esports began to mature into its present state as streaming technology became more widely available. The first collegiate teams started to emerge in the mid-2010s, and the National Association of Collegiate Esports (NACE) formed in July 2016 as a body to advocate for the positive development of esports teams at colleges and universities.
According to NACE, more than 80 colleges and universities are registered with the organization as either having varsity esports teams or being in the process of building them. Because so few varsity teams exist, conference play has not happened, except through regional organizations like the Eastern College Athletic Conference (ECAC). ECAC exists with roughly 200 member schools in order to provide Division I, II and III colleges and universities with teams a chance for competition in sports for which their typical athletic conference does not provide the means to compete.
While Juniata is taking the lead in working to get esports conference competition to occur within the Landmark, its plans for competition within the present year will happen with ECAC members.
"I am pleased and excited at how our students, faculty, and staff have partnered to bring esports to Juniata and to our conference," says James A. Troha, Juniata's president. "I look forward to how it will develop here, knowing we have big plans for enrolling students, competing, and taking advantage of all the learning opportunities this will create."   "Recruiting the team and hiring a coach signals our seriousness for providing this experience that students have really helped us to understand," says Matthew Damschroder, vice president for student life and dean of students at Juniata. "We have many clubs at Juniata, but one of the largest and most popular is our Ministry of Games, a group that at this point has divisions dedicated to role-playing games like Dungeons and Dragons, card games like Magic the Gathering, Nerf games and esports. I credit that group with getting us on our way."
Juniata's search for a coach will involve students as well as professional staff in reviewing candidates and making the final hire. Given the relative scarcity of esports programs in Pennsylvania, the college expects that students wishing to have esports as part of their college experience will show interest in Juniata. In addition to hiring a coach, Juniata is also investing in an esports facility and funding for student scholarships, something typical of esports programs nationally.
"The students who play esports come from all academic subjects, different geographies they call home and many backgrounds that drive their interest," Damschroder says. "For students of college age, this really is a part of their world. We may have an esports team where a player can come to us from the football team or the field hockey team and another player might be on the team while she is abroad in France. While technology is the interface for the competition, it is not necessarily the academic field of interest—or sometimes even close—for the players who compete." 
While the club team prepares for competition, Juniata is recruiting students for the varsity team at the same time that it is seeking the coach. The college expects the coach to be hired and in place by early in the spring semester. Furthermore, Juniata officials expect the coach they hire to promote the values important to all the college's student life ventures.
"We seek good balance in student activities and want to provide high quality experiences for students to gain valuable real-world skills," says Erin Paschal, director of student engagement and campus activities. "Like any other competitive activity taken on with teams, students can have fun while developing resilience, leadership ability, social skills, and more. We are pleased to have the flexibility to accommodate emerging interests, too."
Juniata College is among the most respected liberal arts colleges in the nation, known for its commitment to experiential learning, global and local engagement and faculty and staff who partner with students who take ownership of their education. Juniata offers a college experience that emphasizes a student-alumni-faculty community extending beyond graduation.
Contact April Feagley at feaglea@juniata.edu or (814) 641-3131 for more information.