Juniata Debuts Mock Trial Team
(Posted October 17, 2018)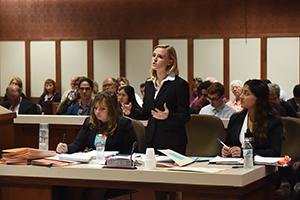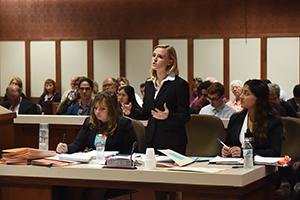 Huntingdon, Pa-- Juniata College has sponsored a mock trial team for the first time in the College's history. Intercollegiate competition is governed by the American Mock Trial Association. The team is coached by attorney and Juniata alumnus David P. Andrews.
"I've been very impressed already," says Mr. Andrews, "The students have been very prepared and there's an obvious desire to be successful."
Andrews has coached mock trial teams at both the high school and collegiate level, most recently coaching a team for Mount Aloysius College. Andrews also co-coached the Altoona Area High School mock trial team for 10 years, leading the team to a state championship in 2014 and a top-20 finish at the national competition.
"Mock Trial is very popular at the high school level throughout the country," says Andrews. "It is an advantage for Juniata to have an established mock trial program, with two teams and academic classes each semester in mock trial."
In mock trial, student teams participate in trials that follow legal procedures to simulate real litigation. Acting as lawyers, each team has the opportunity to present both the prosecution and the defense cases to real judges, and volunteer attorneys score their presentations. Students also act as the witnesses, clerks and bailiffs in the trials.
"You really have to be able to think on your feet," says Haley Walker, the team's captain and a senior from Altoona, Pennsylvania. "I think it will be a valuable experience for everyone involved."
Walker isn't alone.
"I joined Juniata's mock trial team because it allowed me to explore my competitive nature in an academic environment," says Meadow Walshaw-Wertz, a junior studying computer science and sociology from Sunbury, Pennsylvania. "I am a part of the women's soccer team and the women's track and field team here at Juniata, and while I love competing athletically, it's nice to have academic competition as well. Juniata's mock trial program has given me the chance to prepare for law school as well as meet new people with similar interests to me.
The College's team scrimmaged Bucknell University on Saturday, September 15 and Sunday, September 16, and their first competitive outing will take place on Saturday, Oct. 20 and Sunday, Oct. 21 at the Guardian Invitational tournament in New London, Connecticut, which will be held at the U.S. Coast Guard Academy. 
The team will compete at the St. Bonaventure Friar Faceoff Invitational in Olean, New York, on November 3 and 4, the Carnegie Mellon Tournament in Pittsburgh, Pennsylvania, on November 30, December 1 and 2, and the Johns Hopkins University Tournament in Baltimore, Maryland, on January 26 and 27.
--Written by Nathan Woods '19—
Contact April Feagley at feaglea@juniata.edu or (814) 641-3131 for more information.