Juniata's Mock Trial Team Wins First Victory
(Posted November 5, 2018)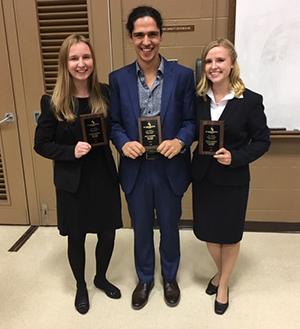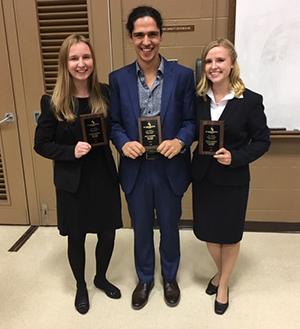 Olean, N.Y. -- During their second appearance at an invitational competition, Juniata's mock trial team placed first this past weekend. At the Friar Face Off, held in Olean, N.Y., Juniata's team registered wins over Allegheny College, St. Bonaventure University, Syracuse University and the University of Buffalo.
Haley Walker, a senior from Altoona, Pa., won the Outstanding Attorney Award; Olivia Drake, a junior from Hollidaysburg, Pa., won the Outstanding Witness Award (defense); and Vidal Glassman, a sophomore from Seattle, Wash., won the Outstanding Witness Award (plaintiff).
The Juniata team's debut competition was at the Guardian Invitational in New London, Conn., where the team had wins over the University of Texas and Holy Cross University.
The team is coached by David P. Andrews, a Juniata alumnus who has coached mock trial teams at both the high school and collegiate level, most recently coaching a team for Mount Aloysius College. Andrews also co-coached the Altoona Area High School mock trial team for 10 years, leading the team to a state championship in 2014 and a top-20 finish at the national competition.
Juniata's mock trial team next competes on November 30 through December 2 at the Carnegie Mellon University Tournament in Pittsburgh, Pa. 
Contact April Feagley at feaglea@juniata.edu or (814) 641-3131 for more information.