Two Juniata Students Earn Gilman Scholarships to Study Abroad
(Posted December 11, 2018)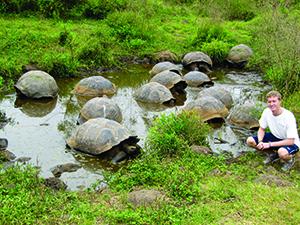 Courtesy: Clay Cooper '13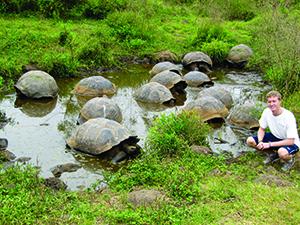 Courtesy: Clay Cooper '13
Huntingdon, Pa. – Two more Juniata College students have been awarded Benjamin Gilman Scholarships to study abroad during the 2018-19 academic year. Stephanie Letourneau, a junior from Braddock Heights, Maryland, earned the scholarship to study in Ecuador, and Justin Rafael Lotito, a junior from Tobyhanna, Pennsylvania, earned the scholarship to study in Mexico.
Letourneau and Lotito join Hannah Brewster, a junior from West Henrietta, New York, Katelyn Meehan, a junior from Huntingdon, Pennsylvania, and Molly Ulrich, a junior from Homer, New York, in earning Gilman Scholarships for this academic year.  
The Gilman Scholarships, named for Benjamin Gilman, a Republican U.S. Representative from New York, offer grants for undergraduate students of limited financial means to study abroad. Scholarships of up to $5,000 are awarded every academic year. The scholarship program encourages students to choose non-traditional destinations for their study-abroad experience. For this cycle, 80 selection panelists from colleges and universities across the nation met at IIE offices in Washington D.C., New York, Houston, and San Francisco, to review nearly 2,900 applications. More than 800 students were selected to receive Gilman Scholarships across the U.S.
Juniata's Center for International Education actively recruits eligible students to make them aware of the Gilman scholarship and similar opportunities. The College's community then sets to work, supporting students through the application process.
"We reach out to the students to attend a workshop with our office," says Kati Csoman, dean of international education at Juniata. "We then offer to review their essays—sometimes multiple versions—to be sure they are addressing the grant application qualifications."
Students are identified based on their eligibility for Pell Grants, which are federal grants for undergraduate students with financial need.
"Juniata's Student Financial Planning Office is so supportive of helping facilitate the best possible financial planning so that students can study abroad," Csoman adds.
In the 2018-19 academic year, 30 percent of students will study abroad, according to the College's Center for International Education. They can take advantage of the College's partnerships with 40 programs in 25 countries, on every continent except Antartica.
"I have tried my best over the years to obtain scholarships to decrease the financial burden on my family," says Letourneau. "I hope to be able to pursue my passions without any boundaries, and the Gilman Scholarship support will make study abroad possible for me."
Letourneau will be studying at the Galápagos Academic Institute for the Arts and Sciences program with Universidad San Francisco de Quito.
"I want to go to the Galapagos specifically to be able to immerse myself in the unique island life and focus my studies on the diverse ecology the island holds," Letourneau adds. "Not only are the Galápagos Islands well-known for Charles Darwin's research about natural selection, but they are also a playground and research area for environmental scientists. There are endless learning opportunities and discoveries to be made still in the world."
Jillian Murphy, the study abroad coordinator at Juniata and a 2017 alumna of the College, assisted Letourneau with her application.
"It's exciting to see students take charge of applying and gain confidence so that they can apply for other scholarships," Murphy says. "In doing so, they learn to market themselves and write about their accomplishments."
Juniata is a community committed to helping all students to study abroad. In addition to assisting students in applying for external financial aid, the College has also created internal resources to ensure students can study in other countries. Both the Chumpol Experiential Fund, named for alumnus Chumpol Phornprapha '65, and the Thomas R. Kepple Jr. International Opportunities Endowment exist solely to make study abroad more financially feasible for students.
This year, students who applied for the Gilman scholarship were also granted study abroad funds the Kepple Endowment.
"Study abroad directly supports the College's mission to empower our students to develop the skills, knowledge and values that lead to a fulfilling life of service and ethical leadership in the global community," Csoman concludes.
For additional information about Juniata College study abroad opportunities, visit www.juniata.edu/international.
Contact April Feagley at feaglea@juniata.edu or (814) 641-3131 for more information.