Juniata College to Host Second Health Professions Institute
(Posted February 28, 2019)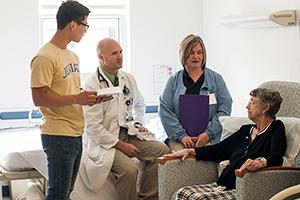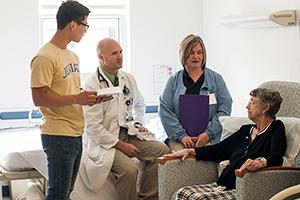 Huntingdon, Pa. – Juniata College will hold its second annual Health Professions Institute this summer from July 28 through August 3 for rising high school sophomores, juniors and seniors who are interested in careers in the sciences.
The Health Professions Institute will provide opportunities for participants to explore different areas of health care and corresponding careers. Attendees will engage in lectures and labs with the College's faculty, interact with various health care professionals—like nurses, physicians, health care administrators and research scientists—conduct lab work and travel to local healthcare facilities.
"The Institute is distinct because it will be a really effective way to explore what life as a pre-health student will be like and what to expect if the students choose to pursue that path," says Amanda Siglin, director of the health professions program and chair of the health professions committee.
Program participants will be exposed to the kinds of high-level research that students can complete at the College and will gain an understanding of the partnership that health professions students have at Juniata. Last year's topics included food as medicine, physiology and movement, the human microbiome and careers in the pharmaceutical industry. Labs and panels were provided by Juniata professors, local healthcare providers, an alumnus who is a researcher at Eli Lilly and a doctor from Hershey Medical Center.
The Institute's curriculum also included a panel of Juniata alumni who have pursued careers in healthcare fields. Graduates of Juniata's health professions program have been accepted to medical school at a rate of 90 percent for more than 40 years. They attend medical school at institutions including Duke, Johns Hopkins, Harvard, the University of Pittsburgh and the University of Pennsylvania.
The College has formal articulation agreements with medical and professional schools spanning 14 different health fields that include accelerated and early acceptance options.
"Current students studying health professions will assist during the Health Professions Institute, serving as lab facilitators, residential counselors and mentors," says Siglin.
It is not necessary for participants to have experience in health professions fields; however, it is encouraged that the high school students have a good scientific foundation (chemistry and biology courses) and an interest in health careers. The cost of the program is $1,250, which also covers all meals, housing and transportation to off-campus sites.
To register for the College's Health Professions Institute, please visit www.juniata.edu/healthinstitute.
Contact April Feagley at feaglea@juniata.edu or (814) 641-3131 for more information.