Dream On: Juniata Student Earns National Society of Leadership and Success Grant to Volunteer Abroad
(Posted March 1, 2019)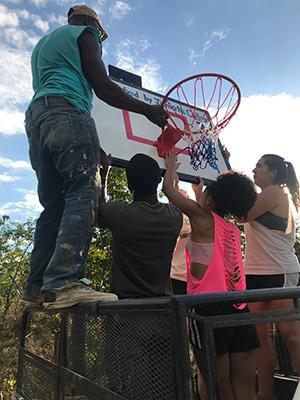 Courtesy: Suraia Silveira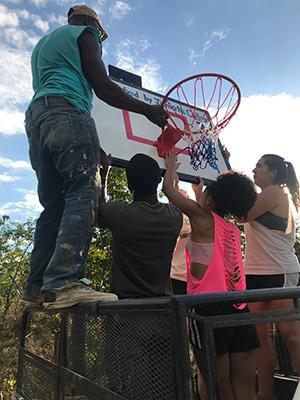 Courtesy: Suraia Silveira
Huntingdon, Pa.–Suraia Silveira, a Juniata College junior from Mattapan, Mass., recently became the first student from Juniata to earn a National Society of Leadership and Success (NSLS) Dream Support Grant.
The $2,500 grant enabled Silveira to travel to and support the Guanin Center Foundation, a Dominican nonprofit charitable organization, as they developed a community park in La Piedra, a small underserved community of about 5,000 residents. In high school, Silveira traveled to Spain during her senior year to do volunteer work. As she transitioned to college, she knew she wanted to continue to help others.
While at Juniata, Silveira has been to the Dominican Republic three times to assist with community engagement projects through the College's Cultural Learning Tour annual abroad experience. This year, Silveira served as the trip leader for the tour. She also serves as president of Juniata's Amigos de Guanin student organization, which supports the Guanin Center Foundation.
Because she is also a member of the College's chapter of NSLS, which helps people discover and achieve their goals, Matthew Damschroder, vice president for student life & dean of students, as well as the College's NSLS adviser, encouraged Silveira to apply for the Dream Support Grant to support the Dominican Republic.
In her application, Silveira focused her passion for service on supporting the Guanin Center Foundation and a community park project in La Piedra. When she traveled to the Dominican Republic, Silveira worked to enhance the park with a playground and barbershop to create more places for community gathering spaces.
"A young from La Piedra girl told me that thanks to Juniata's students, their community park will look beautiful and that they will never forget what we were doing for them," says Silveira. "I will never forget her appreciation for this."
Silveira intends to return to the Dominican Republic and continue her efforts to positively impact the community and its people.
In the past five years, Silveira and other students from Juniata have built several water wells, a home for volunteers doing extended stays, and a park for the community of La Piedra. They also designed and implemented a garden and irrigation system.
"The people of La Piedra appreciate every little thing. La Piedra's people will always be family," Silveira concludes.
--Written by Sierra Waite '21
Contact April Feagley at feaglea@juniata.edu or (814) 641-3131 for more information.